Latest SexualDisgrace.com Updates
Marina Angel
May 30, 2014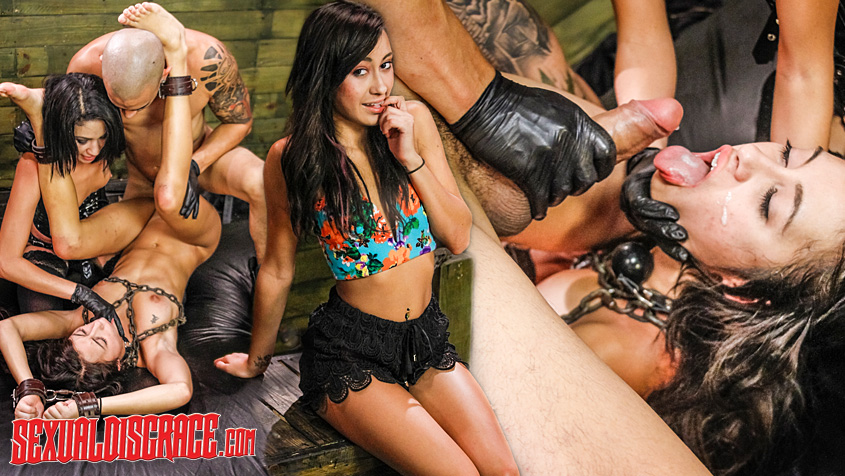 Teen sex slave Marina Angel is a world-class submissive, and if this scene is any indication of what level of depravity Marina will someday achieve, her future as a famous BDSM babe is secure! With her little hardbody shackled and her wrists and ankles bound together, her nipples are pumped up while Mistress Esmi and Master Bruno take turns flogging her sweet pink pussy with different whips, but this is just the appetizer! Next, her cunt is lubed and fingerfucked hard by Esmi and Bruno while he also whips her tits at the same time. A clothespin zipper is applied to her beef curtains and then she is fucked to submission by Bruno while Esmi humps her face. Bruno shocks Marina's pussy with a cattle prod while Esmi counts down Marina's orgasm. Marina deepthroats him and then he gives her pussy another pounding in missionary, reverse cowgirl and spoon positions. Bruno blows a huge load on to Marina's face and Esmi scoops it up and stuffs it into Marina's mouth until she swallows every drop. One hell of a show!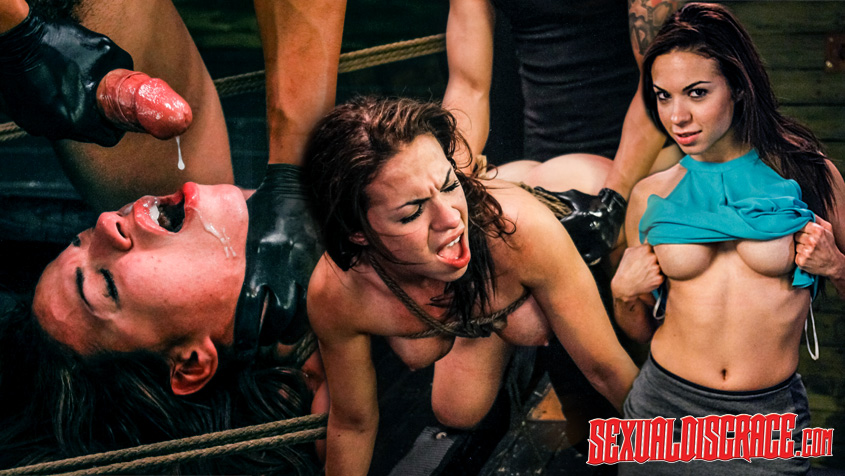 When the party kicks off with a brutal fucking machine penetration and hard spanking session, it's only going to get harder for Kylie from there… and kinkier. Kylie has an itch that needs to be scratched, and Master Bruno has just the thing… or ten things! Some breath play via a gas mask and hose gets Kylie extra freaky fetish girl points, but it takes even stricter domination to tame this wild child. A hot deep throat blowjob and throat fucking as well as some serious cock and ball worship gives her a break from the fucking machine for a few minutes, but the master decides Kylie needs more time on the fucking machine. Tied down and spread open with ropes and leather straps so her holes are open for business, her pussy is totally trashed by the powerful and merciless fucking machine. Time for some cock after that, and Kylie gets plowed by Master Bruno like a Colorado mountain pass after a blizzard until she's completely fucked out like a good little pig. A glorious cumshot fully coats slutty Kylie's mouth, tongue and face, and runs down her cheeks and neck! Pahpow!
The pretty ones like Alli aren't usually very kinky, so it's a real bonus when someone who looks as good as she does also likes BDSM and rough twisted sex. In fact, it's like the perfect storm of perversion. Alli may be new to the porn game, but she's into some super dirty things that even hardened old pirate sluts have never heard of. Alli looks really hot getting her pussy churned by the fucking machine penetrating her hot sex holes. She likes it too, cumming and cumming and cumming until she's too wasted to take anymore, but she better dig deep because dildo on a stick wants his turn inside Alli's insatiable snatch. BTW, Alli's nipples and tits are fuggin' flawless! Like you didn't notice. The master gets his turn inside Alli too, and after a spirited throat fucking with all the trimmings, he drops a nice oral creampie in her pretty mouth.
Charli Acacia
May 27, 2014
Charli Acacia has the right attitude, drive and determination to become a BDSM rough sex superstar, and when we asked her to try and squirt on camera for you guys, she said she would try her hardest even though she's never done it before. Thatta' girl, Charli, that's a good sex slave! Of course, Master Bruno lends a hand, and a cock, and a whip, a vibrator and a violet wand, to help Charli achieve her dream. Chained and secured with leather straps to a small wooden box, Charli's entire body is shocked with the violet wand to tune her up. She shrieks in agony as the static electricity stings her sensitive clit and nipples. The Hitachi wand is applied to her clit until she begs for cock. Charli receives her reward and gets her throat and pussy deeply penetrated and fucked with equal intensity. The skilled Master Bruno shoves four fingers into Charli's gash, and puts the vibe directly on her clit until she squirts, not once, but three fucking times! It's super intense and way better than any reality TV! Charli thinks she's finished, but she gets the dildo on a stick jammed in her bald biscuit. More throat fucking and pussy hammering, and then Bruno dumps a huge load of spuzz in her mouth which Charli hungrily swallows down. An amazing scene with an amazing slut!
Sabrina Banks
May 26, 2014
How awesome would it be to come home and find a beautiful, naked girl upside down on your couch with her wrists strapped to her ankles and wearing nothing but a chain harness, clothespins on her beef curtains and clit, and a big funnel in her mouth? It would be totally fucking awesome! Sabrina Banks is the sex slave in training on the couch, and she's going to be pushed to her limits (and quite a bit further) by the master until a state of total submission is achieved. A rough four finger pussy penetration gets Sabrina squirting like a garden hose in no time, and the cum sprays right into the funnel stuck in her dirty mouth! She gags to swallow it all down, but knows she better, or she?ll pay dearly. The merciless master takes a massive footlong dildo on a stick and penetrates Sabrina?s pussy all the way to the wood. He fucks her fast and furiously with the toy. It looks like he's churning butter in her beaver. Sabrina keeps the orgasms cumming as Bruno switches it up and whips her pussy with a leather riding crop. He then pounds her out good and proper with a big dicked fucking machine. A vibrating wand on her clit sends Sabrina into orbit, so Bruno unleashes his massive load into her hungry whore mouth and calls it a wrap.
Bibi Miami & Callie Calypso
May 25, 2014
Girls who are willing to admit that they are perverted freaks and down for anything are the best girls ever! Bibi Miami, petite, blonde, just 4? 11? tall, and 18-years-old, is already a veteran of dozens of hardcore rough sex and BDSM scenes, some of which are right here. Callie Calypso, 22, a local girl like Bibi, asked us to film a threesome starring them and everybody?s favorite ?Master of Bitch Disaster,? Bruno. Only a true master like Bruno can break a spirited pair of young girls like these and turn them into submissive sex slaves. Bruno starts the training by putting them on all fours on a workbench tying them ass-to-ass with rope harnesses. A big double-headed dildo is inserted in their pussies for the girls to share. Hot, deep throat blowjob action gets Master B?s big hung cock warmed up and hard enough to penetrate both babes and all the holes they have. Whipping with a leather flogger, violet wand shocks, and lots of face slapping, fingerfucking and ass beating fill the gaps between the multiple rounds of fucking. Later, Bruno orders the girls to make out with each other and engage in other humiliating lesbian sex acts for his entertainment.This blazing hot session ends with an epic dueling tongue cascading cumshot truly worthy of the history books.
Occasionally, a special type of girl finds her way into our BDSM dungeon, and this kind of girl is highly coveted, for she can?t get enough pain and punishment, and that becomes a challenge for Master Bruno he MUST accept. Beautiful and hot-blooded Isa Mendez has appeared here before, and she is a tough nut to crack, but this time, she brings her ?A? game and can?t wait to see who breaks first. Like she has a chance. Bruno ties her into a rope swing with her legs spread wide open. A clit vacuum pump stretches her little love button into a party-sized target as big as a finger for the master?s whips, toys and vibrators. Next, a larger pussy pump is applied until her entire twat and labia are several times their usual size. Bruno then breaks out his leather flogger and whips Isa?s vacuum-plumped vage until it is totally wet and ready to receive his huge hung cock. Total pussy submission. A nice long bang session ensues, and you can see the enjoyment spread across Isa?s face as master fucks her to numerous orgasms and then ends the party with a dildo on a stick. Isa?s training ends for now with a huge load of cum dispensed into her deserving mouth. Like the good little sex slave slut she is, Isa sucks it all down.
Beautiful and busty-rific Bibi Miami with her blonde hair and tight, firm body submits her entire physical and spiritual being for the amusement and manipulation of her cruel master, Bruno. He?s more than happy to dominate her into submission because he has a ?particular? set of skills? BDSM skills he will use to reduce Bibi to little more than a shivering, quivering pile of jizz-covered sex parts, and basic human functions like screaming, crying and having orgasms. He also happens to possess an oversized cock to bring this cruel pussy party to an energetic finale that begins with Bibi spread wide open with her ankles tied to her wrists with rope. Toys are always good for dirty sluts, and master B has two powerful vibrating wands to ravage Bibi?s gash with. One penetrates her pussy deeply, all the way in, and the other goes on her clit until she cums so hard she almost faints. Then, in a cruel twist, he puts the wand that was in Bibi?s pussy into her mouth. Bibi finally gets the veiny prize when the master plows her fuck wallet until he fires a big load of cum into her mouth. A beautiful cumshot and oral cream pie finale.
Lily Ligotage
May 22, 2014
In the world of the sex slave, there?s a constant desire for that slave to prove him/herself worthy. Not all of them can achieve that, and this can be the fault of either party, but with the right master and the right training, an acceptable level of submission can be reached? and that?s when the real fun begins! Lily wants to become the perfect slave, and she definitely has the right master, but will she reach her goal? Lily comes correct with a metal hook in her ass while also bound tightly with a rope harness that controls her entire body like a fuck puppet. First, she is brutally fingered with the master?s latex-gloved hand. She is also spanked on her shapely ass. Next, the harness is used like the reins on a horse to control her and pull her body against a timber post where a huge black dildo has been nailed and mercilessly slams into her holes. Clothespins pinch her nipples as she is pounded by the master?s cock doggie style while standing up. She is then whipped all over with a leather cat o? nine tails until she?s properly marked. Spread eagle and tied into position, Lily?s pussy is deeply penetrated with toys, dildos and vibrators. Lily finishes her master like a good sex slave by sucking on his sweaty balls while he jerks off into her open mouth. Spurts of hot cum flow into Lily?s mouth and coat her tongue. Will this make Lily the perfect slave?
We like the way Layla Price parties and she starts this one off right with not one, but two enema syringe injections, and this scene only gets crazier from there. You?ve seen those huge, black vibrating wands with the massage head that looks like a giant marshmallow, right? Our Layla gets one of those jammed all the way up her tiny little asshole where it stays for most of the rest of the scene, much too large to work itself out, even when she?s getting viciously fingerfucked and her clit vibed to bits with another wand by the unyielding master. Girls and their toys. Later on, up on all fours with a jumbo buttplug keeping that gape going, Layla learns the real meaning of BDSM when a fucking machine is introduced to her rear exit. She takes it like a champ though, and as the master increases the speed of the tireless machine, he smacks her ass with his hand to let her know that he is always in charge. Some super rough anal sex is on deck next, and Layla?s complete submission and humiliation cums to an energetic climax with a brilliant anal cream pie that is then spooned out of her ravaged bunghole with a plastic spoon and fed to her to be recycled as an oral cream pie. WTF? Exactly! Genius!!! Can Layla?s asshole take all of this? Maybe, maybe not, but she?s about to find out!
Latest SexualDisgrace.com Updates