Latest SexualDisgrace.com Updates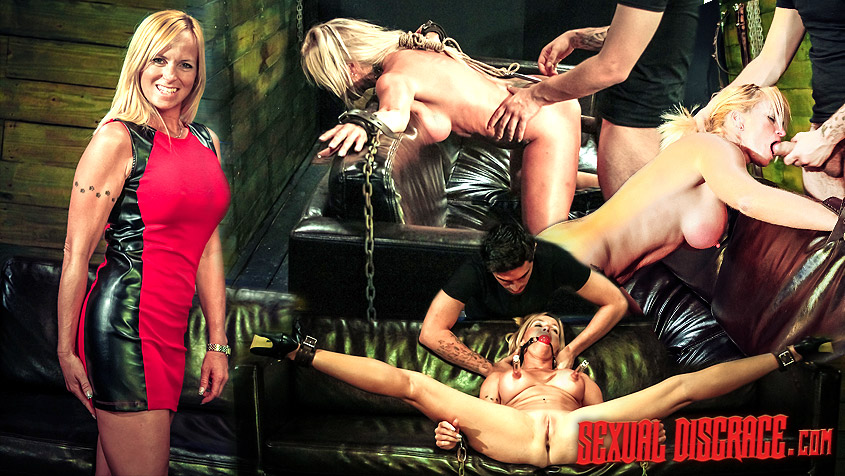 We're excited to share we've found another hot kinky cougar who definitely deserves disgrace for being a slut. Fetish Network introduces Dani Dare. She's traveled the world and has had some great times but we're sure her experience in our dungeon will top the rest. She seems like a natural submissive and obedient sex slave. She loves being slapped and spanked, gagged and fucked roughly, deep and hard down her throat and pussy. We definitely have everything Dani wants. She is placed on the leather couch, legs chained wide apart, hands down and out of the way. Her new BDSM Master comes in and slaps her pussy awake. He wants her to cum a few times before he penetrates her. A vibrator usually does the trick. He lubes her cunt and spreads the wand all over her clit and pussy lips. After awhile, he climbs up on the sofa and stuffs his hung cock deep down her throat, making her give him a sloppy blowjob. She keeps gagging up spit, her pussy tightening every time. He finally sticks his meat inside her cunt and pounds away, fucking her deep and rough, the sex she prefers. We here no struggle or complaint from this naught Cougar. She takes his dick like a champ. So she's flipped around, her arms, shoulders and head over the back of the couch, her ass up and ready for more penetration. Dani's hot body spread out doggy style will make everyone cum in their pants. She can hardly move as she is slapped into the position she's wanted in and taken how her Master pleases.
Becca Diamond
May 1, 2014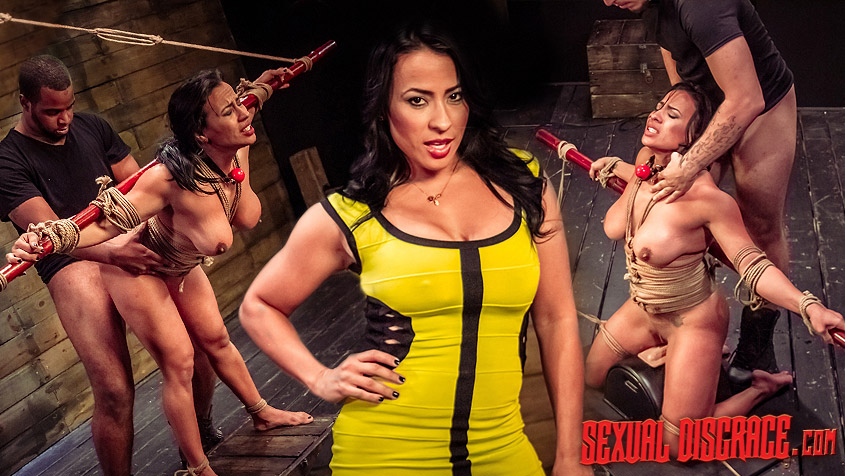 Guess whose back? Our favorite sexy Latina Milf Becca Diamond. She is a staple here at Fetish Network and we doing everything we can to lure her back in the dungeon. She's definitely one sex slave fun to dominate and challenge with new goodies. She's introduced to our sybian fucking machine, a massive surprise for someone new to it. This time around, we have an interesting bondage device: a long piece of bamboo. It ends up pairing beautifully with rope. Becca is kept on the sybian with rope around her waist and legs. The bamboo is tied to her arms, keeping them up and spread, ties around her muscles and wrists. Our shiny Diamond is also treated with our first black Master and his big black cock. Becca struggles immediately to contain herself from all the orgasms it's causing. She does squirt. Her Master pushes her hips down onto the sybian, clit pulsed with intense vibrations, making her ride it. He opens her mouth and makes her gag on his dick, making her give him a deepthroat blowjob. She loves big black cocks and worships it like a good sex slave should. Let's see if she can take it up pass her meaty clit into her tight cougar cunt. Her Master keeps her attached to the bamboo, stands her up and ties the rope to the wall. He inspect his sex slave's pussy and asshole, pleased to see pretty pink. Diamond gladly takes every inch of cock, rough and deep, begging for forgiveness for being a dirty whore. Her Master goes back and forth from mouth to pussy, pussy to mouth, using her spit as lube and making her clean his dick off her cum. He shoves his dick deep down her holes, making her moan and scream like a good slut should, pounding her in. Becca Diamond delivers another great performance. Stick around for more!
We've found another curious hot young thing who definitely loves sex of all kinds. She's done some BDSM play yet not at the level we offer here at Sexual Disgrace. We definitely want to see if she can endure her own disgrace. Fetish Network presents Zoey Foxx. She's introduced with our trusty sybian fucking machine, a delightful surprise for all of our sex slaves. This time around, the sybian is drilled in place high off the floor. She's kept on with cuffs around her wrists and ankles to the wall. Our hot Foxx finally meets her Master with a flip of a switch and the constant vibration of the sybian. Zoey struggles immediately to contain herself from the all the orgasms it's causing. Her Master pulls her hips down onto the sybian, clit pulsed with intense vibrations, making her ride it. He reaches up and chokes her a bit. That usually makes his sex slaves cum harder. She's doing well so far in her slave training. Next, he brings her down onto a crate in the doggy position. Her Master inspect his sex slave's pussy and asshole, pleased to see pretty pink. Foxx quickly learns how an obedient sex slave should be, following every order, taking every inch of cock, rough and deep, begging for forgiveness for being a dirty whore. Her Master goes back and forth from mouth to pussy, pussy to mouth, using her spit as lube and making her clean his dick of her cum. He shoves his dick deep down her holes, making her moan and scream like a good slut should, pounding her in. He even moves around a few clothespins around her body, pinching her sensitive skin and pierced nipples. Seems Zoey Foxx is a natural at bondage and being a good submissive whore ready for domination.
Nikki Bell
April 29, 2014
Nikki Bell, one of our favorite sex slaves, has returned by request from her BDSM Master. She needs more slut training. We're sure everyone agrees. So Nikki Bell is started on the sybian fucking machine, tied down with tight rope. Nikki Bell thought simple chains and cuffs were difficult. Rope bondage definitely kicks things up. She struggles and tries to get off the vibration chair but she isn't going anywhere. The two clothespins on her nipples has her screaming already. She has no choice but to sit and endure what's coming her way. The vibration begins and her Master's dick slides deep down her throat. That's how he likes his blowjobs. He loves fucking a slave's skull in. The vibration and speed is turned up and down, tormenting Nikki's clit. She is slapped on her face and tits and her Masters wants to hear her say what a slut she is and to beg for his hung meat. It takes a few slaps and more throat pounding to get it out of her. He decides to elevate this bondage scene with the fucking machine. But he wants full access to her tight pink pussy. So he placed the fucking machine on the wall, the rubber dick in and out of Nikki's mouth as he fucks her pussy rough and hard. Nikki can't focus on either dick plunging into her. Technically this scene does contain double penetration. Her Master gets jealous and wants his dick sucked more. He pulls her head away from the machine and makes her gag on his cock. He finishes the scene with more clothespins, letting the machine have fun with her mouth some more.
Nikki Bell
April 28, 2014
We've come across a young hot Euro babe obsessed with the mirror and watching herself get fucked. If there's a camera nearby, her instinct is to start posing and remove her clothes, hoping there's a dick nearby. She's also curious and wants to try everything at least once in the porn industry. We have the perfect challenge with our taste of bondage slave training. Sexual Disgrace presents Nikki Bell. Nikki ends up on top of the sybian fucking machine, chained down by her collared neck, wrists cuffed behind her. Her new BDSM Master enters the dungeon and flips on the sybian while introducing her to hung cock, excavating deep down her throat, practically fucking her skull. Nikki wasn't expecting such a huge dick for her domination. She should have known better. Her Master raises the vibration and wraps his hands around his neck, choking moans out of her, making her apologize for being a slut while gagging on his cock. The breath play seems to be a turn on for Nikki, making her cum on the flesh pad. Her pussy gets creamy from the torment. He raises the sybian higher, slaps her face and tits, bobbing her head on his meat, pushing her down onto the sybian, clit pulsed with intense vibrations. After multiple orgasms soaked in her own spit, Nikki is stood up and kept in place with a strap around her waist and wrists cuffed to the same chain. Her master bends her over and ass up. He inspects his sex slave's pussy and asshole, pleased to see pretty pink. Nikki has no choice but to be an obedient sex slave, following every order, taking every inch of cock, rough and deep penetration sex, pounding her pussy in, begging for forgiveness for being a dirty whore while making her give him more blowjobs. Nikki is struggling through her disgrace. The only way to see if she survives is to press play!
Jenna Ivory
April 27, 2014
My Master left me waiting in his dungeon. My first slave training session had me so anxious. I didn't know what to expect from him. He had me bent over and arms belted to a rod, giving him easy access to my pussy and mouth. My energy depletes by the time he finally walks into the room. When he's gone, he's gone. When he's in front of me, it's usually with a throbbing erection. He doesn't waste anymore time when he's standing before me. He shoves his cock deep down my throat, giving me no time to prepare for it, causing spit to pour out of my mouth, rubbing it around my face. My lips always stretch around his shaft. His cock is so thick. I definitely feel it when he penetrates my shallow pussy. It's painful, but I can't get enough of it. I wish he'd keep it there, yet he loves to go back and forth between my mouth and tight pussy. He pushes my limits with his favorite sybian fucking machine. My body weakens with every orgasm. All I can do is hang on to what I've been attached to and enjoy the taste of his great cock when he isn't pounding me in.
My wrists and legs were bound to two elevated slabs of wood, keeping me in the doggy position. I'm not sure why I deserved such sexual disgrace again. I thought my slave training was going well. It's what I kept thinking as he fucked me deep from behind. I'm usually tight and shallow. He didn't care. He went as fast as he wanted, pushing his cock in me as deep as he could. He made be beg for more of his hung meat, making me orgasm more than I have before with him. I couldn't handle his massive dick. Yet, instead, he brought out a fucking machine with a dildo just like him and his new favorite toy, the sybian. The rapid vibration with the drilling rubber cock made me cum so hard over and over. I couldn't whine. He had me by my hair, holding it in place to deep throat every inch he dick. I couldn't concentrate on the sensations, overwhelmed by it all. I was beginning to break but he didn't let up. He increased the vibration, made the fucking machine go faster as he continued skull fucking me, making me take his dick deep down my throat.
This was my first slave training session with my new Master. He said he had a surprise me. Something I've never tried before. He tied my tits and wrists with tight rope to posts on top of something that felt like a chair, my pussy resting on a rubber pad. My blindfold kept it mysterious. Every time I moved, it tickled me. My Master finally came in and turned on switch, a gently vibration making my pussy quiver. The vibration made me orgasm over and over, no matter how hard I try to resist. I could handle it after awhile. He kept my mouth open with hooks and shoved his massive dick deep in my throat, holding my head by the hair, pushing his meat down deeper. Spit was pouring out of my mouth down to my breasts. He raised the sybian speed, distracting me more as I slobbered over his dick. He had enough of my mouth. He pulled me up on my feet, the bondage keeping me bent over. He grabbed me by the waist and ropes, pulling back onto his cock. It's so big. I could feel it open me up wide. I've never been fucked so rough and hard, his dick pushing through deeper and deeper. I have to admit, I loved when he pounded me in, his dick warming my pussy from the fast friction. Next thing I knew, he made me drop back down on the sybian and left me for the next he wanted to use me. I came so many times that night. -Mena Li
Kayleigh Nichole
April 24, 2014
Even though he scared me, I wanted to serve my new Master. He promised he'd make me the best sex slave with his effective training. He left me in the perfect position for what he had in mind: my neck and wrists collared to a post, my ass poked out for him easy access. I couldn't pull away no matter how hard I tried. He wanted to test how well I can actually deep throat a horse cock like his. He wasted no time, shoving his dick all the way down my throat to his balls. All he wanted to hear was me gagging on his thick shaft. He expects plenty of spit. I did like all the slobber that fell from my mouth. I didn't make it easy for him. I just wanted him to keep trying. I loved feeling his dick expanding my throat. He must have been impressed because he propped me up, blindfolded me and fucked me from behind. I enjoyed his cock in my pussy much better, especially when he grabbed my head and used it to bounce me on his throbbing manhood. He made me tell him how much I loved it. He even made me beg for more disgrace. I was actually being honest. I wanted more. That very though made every orgasm much more intense. When he was done, I was left trembling. But my pussy quivered for more. -Kayleigh Nichole
My throat still hurts. I've never deep throat-ed so much in my life. His dick was so big. I didn't even touch it. He left me tied to his sybian fucking machine for awhile, my wrists tied together behind my back, my breasts bound by more tight rope. I didn't know what the machine was until he turned it on. I couldn't release myself. I tried so much, but the rope wouldn't loosen. I had no choice but to enjoy the constant vibration on my pussy. I had to cum within minutes. He grabbed my head and widened my mouth with his massive dick. I haven't been with anything bigger than him. He's definitely trained me well in using my throat. He kept pushing his dick in deeper and deeper, faster and harder, my head bobbing while he turned the sybian up. I couldn't concentrate on the machine and his dick but I had no choice. I teared up instantly, spit pouring out of my mouth as I gagged over and over. It seemed like days of deep throat-ing his cock. When he was finally done, I thought my disgrace was over. But it only the beginning. He got rid of the machine and bent me over on the floor. He entered my pussy roughly, pulling me back on his dick by my face and hair. I love being his whore. He leaves me shaking from orgasms wanting more.
Latest SexualDisgrace.com Updates