Latest SexualDisgrace.com Updates
Stella May
April 22, 2014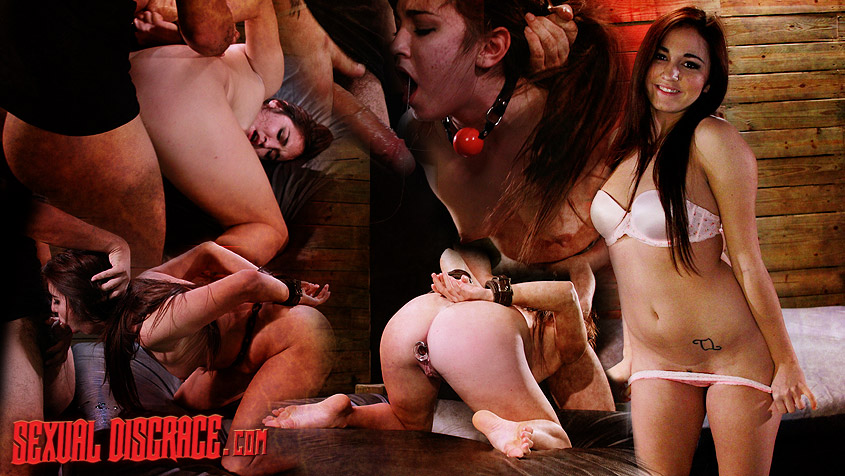 I woke up on the bare bed again and my wrists tied behind my back. Luckily my legs were free but my Master came in before I could get away. How does he get me here? I have to know. No matter how much trash I talk to him, he punishes me, slaps me around, smears my spit all over my face and torments me with his hard rock boner. He threw me all around the bed with such ease. I love being manhandled, covered in spit and pussy and mouth sore from so much cock. He fucks me doggy style, missionary, rough, hard and fast, loosening my pussy with his massive cock. Every time I screamed for more, begged for more dick, he would cover my mouth and give me exactly what I wanted. It was too much to handle at times. The constant orgasms made me quiver throughout the session. I didn't think I could take such a dick so rough. But I didn't care. Whatever it took to taste his cum, I'd do it without hesitation. I want to be the best sex slave he's every had. I have been through enough training. I'm pretty sure I know what he wants now. -Stella May
Stella May
April 21, 2014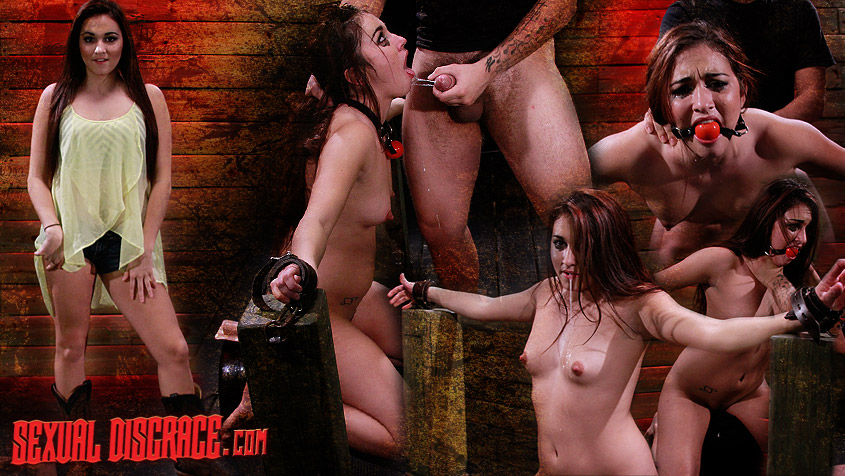 I can't resist my Master. He doesn't have to bring me to his dungeon anymore. I go and wait to be used. This time he had a pleasant surprise for me, something I've never tried before: the Sybian. If you thought he wore my pussy out before, this session pushed me even further. He shackled my arms apart like wings, wrists attached to two wooden posts. On my knees, the sybian underneath me, my pussy right on the vibrating palette. I assumed it was like a magic wand but soon found out I was wrong. The way he was playing with my pussy and clit, pushing me down on the machine, I wouldn't want to escape. I loved him reaching deep inside my throat with his cock, rubbing my pussy on the vibrator beneath me. It came to the point where it was too much. But he loves pushing my limits. He wants me to be the perfect slutty sex slave. I hope this pleases him. All I want is his dick. In return, he makes me orgasm over and over again. The buzz was so strong I felt like I was cumming non-stop throughout it all. I love my master -Stella May
Fiona Rivers
April 20, 2014
I can't deny how good it felt to be dominated by such a man. I couldn't stop thinking about his dick stretching my mouth open, rubbing my g-spot raw, his dick pushing in far past it. He even fucked my asshole, making me rethink anal sex all together. My asshole was so tight before he used me. He tied me to an old dirty crate on my back, legs high up in the air. I could only imagine what was in store for me. I didn't see him come in this time. I was aware he entered the room from his sudden penetration. He felt bigger in me every time his dick went in. I could feel my pussy widen as fucked me rough. He turned me over, lubed up my asshole and plunged his dick in. He didn't care if I was begging for him to go slow. He doesn't like me telling him what to do. I have so much more slave training to do. All I could do was take it and try not to cum until I was given permission. I was in the perfect position for him to do whatever he wanted with me. All I wanted was to taste his cum. The entire time I was hoping for it. -Fiona Rivers
Jayden Rae
April 19, 2014
I can't resist my Master's need to bound my neck with a stiff steel collar, my arms restrained with tight leather straps, chained to posts keeping in place on my knees. How does he know I love this? I enjoy being his sex slave, enduring any training he thinks I need. I love when he grabs my hair and makes me takes his dick deep down my throat. He doesn't care if I gag. He keeps shoving it as far as he can, smacking the back of my head to go further down my throat. I will take it all, as long as he wants. I even get aggressive and beg for more. Of course, he likes to stretch out my pussy with his hung dick. He rearranges me on my back, legs spread and wrists bound together. It's the perfect position to pound my pussy in. His huge cock opens me up wide, reaching deep inside me. Sometimes it's too much but he doesn't care. He grabs my hips, pulls on my hair, slaps my tits, making me scream, pulling me back on his throbbing boner over and over. When my legs go numb from all the orgasms, he makes me clean my pussy juice off his cock with my tongue. It tastes so good. I always beg for my Daddy's cum. If I've pleased him, he rewards me with a load. I tend to get my wish. -Jayden Rae
Dillon Carter
April 18, 2014
The last thing I remember was leaving the mall. The next, my breast and wrists were tied with leather cuffs and chains, giving me a full on bondage experience, my master throwing me onto a dirty old mattress. He wanted to tear me apart. He first slid his thick piece of meat down my throat. He ordered me to get it nice and wet as he fingered my pussy, pulling on my g-spot. I'm sure he was testing it out to see if I was ready. I found out soon enough. He tossed me on my hands and knees, ramming his dick deep in me. There was so much spit pouring out of my mouth every time he made me give him a blowjob. I could feel it throbbing. He was relentless. He pounded me in good, holding me down with his rough hands. He fucked me on missionary, doggy and on my side, training his slave to take dick in whatever position. Every time I screamed for more, he would cover my mouth and gave me exactly what I wanted. It was too much to handle at times. I didn't think I could take such a dick so rough. But I didn't care. Whatever it took to taste his cum, I'd do it without hesitation. I'll definitely be waiting for more. -Dillion Carter
Sheena Rose
April 17, 2014
I woke up on the bare bed again and my wrists tied behind my back. Luckily my legs were free but my Master came in before I could get away. How does he get me here? I have to know. No matter how much trash I talk to him, he punishes me, slaps me around, smears my spit all over my face and torments me with his hard rock boner. He threw me all around the bed to do so with such ease. I love being manhandled, covered in spit and pussy and mouth sore from so much cock. I think I talk back for that very reaction. The more I yell at him, the rougher he gets with me. I get scared sometimes he might do something more than he does, something I really can't handle. That's why I shut up but tempted to talk back again. I think he likes it. He gives me a huge steamy load of his sweet man juice every time I rile him up and take his punishing cock. I know I please my Master.
Sheena Rose
April 16, 2014
I love challenging my Master. He puts me right back in my place. This time he did it with his thick cock, a massive dildo and his trusty vibrator. I could barely stand when he was done with me. My mouth and pussy was working non-stop for what seemed like hours. He had me from behind, pounding on my pussy with that hot cock I love. Of course he had a handful of my hair, bobbing my head on a huge dildo he set up for me. He would then flip me around, cocks working my holes just the same. I do have a big mouth. Every time I needed a break, I curse at him, hoping he'd stop. But it only made things worse. He put my mouth and pussy through rougher circumstances, slapping my face, pulling on the sides of my mouth to thrust deeper and faster on his cock and to swallow more of the dildo. He knows how to leave me worn out, which doesn't necessarily mean he's done with me.
I'm so proud I've proved to my Master how well I can swallow dick, especially his long and thick meat. This session he wanted to test how well my pussy could take his dick. I thought I did last time, but he disagreed. He wanted to see inside my pussy, slowly placing a freezing speculum, opening it wide. I wish he let me see how it looked. Instead, he rubbed on my g-spot making me cum within seconds. He took out the speculum and hooked up the fucking machine with a dildo twice his size. I could definitely take it deep down my throat but wasn't sure I could take it in my pussy. I had no choice. My legs and arms were chained down. My pussy belonged to him for whatever he wanted. I hope I impressed him. Maybe I need another pussy test.
Latest SexualDisgrace.com Updates