Latest SexualDisgrace.com Updates
Kylie Rogue
April 6, 2016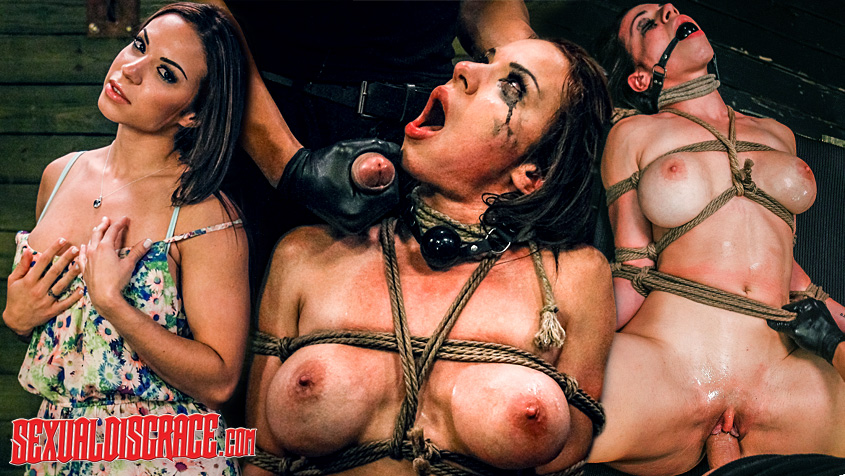 Kylie Rogue is a supah dupah fuhhhhreak with a big freaky clit that's just begging to be played with! She's also got a banging set of tits that look fantastic all bound up in a nasty rope harness and standing straight up. This scene's got it all: slapping, spanking, orgasm training, toys, a ride on a big gnarly Sybian, Hitachi wands, and savage throat and finger fucking! Rough sex from beginning to end and Kylie takes it all and begs for more. Freak! Bruno puts this pretty little twisty and her stellar boobs through the ringer in a serious domination session, and the only way it will end is when her total submission is achieved. But let's get back to that supersized clit Kylie's supporting…it's as if she put a vacuum pump on it and puffed it up, but that's all her. No enhancements or tricks. Just a naturally big clit that you're gonna dream about sucking on for the rest of your life!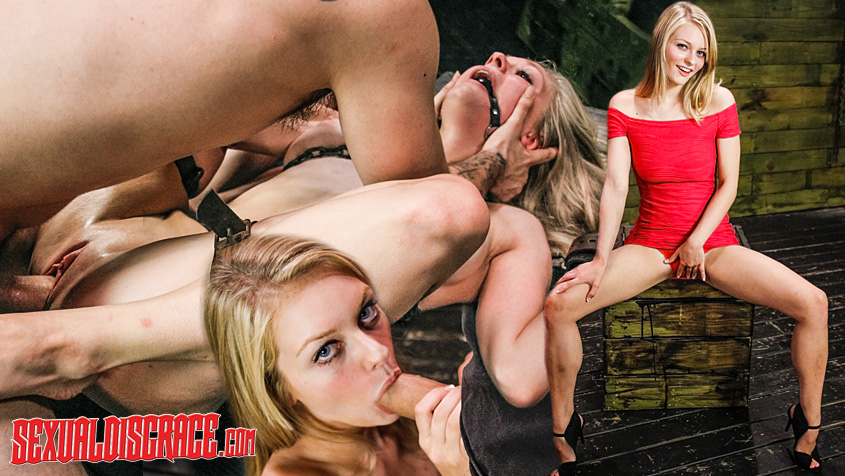 Lots of good things come from Tennessee! Jack Daniel's, country music and Bettie Page to name three, and now the gorgeous 19-year-old Alli Rae. Alli is a classically beautiful, blonde, Southern Belle with a dark side that she wanted to explore on camera, and we were more than happy to offer her up to the master for the day. Alli told us she had tried rough sex in her personal life, but nothing could prepare her for the BDSM training the master had in store for her! Bondage and fucking machines were the first two things Alli learned about, and having her wrists shackled while she was secured to a big powerful Sybian with a harness made of chain was just a taste of the many painful things to cum. Alli orgasmed uncontrollably as the master brutally throat fucked her and the Sybian relentlessly vibed her clit simultaneously. Some rough doggie style and reverse cowgirl banging was Alli's next task of the day, and then it was a rough four finger hand penetration with the addition of the Hitachi wand buzzing away tweaking her love nubbin until she screamed and squirted cum everywhere. A little dildo on a stick for dessert gave her a few more orgasms for the road, and Alli was DONE!
Charli Acacia
March 23, 2016
Talk about a score, Charli Acacia came to us only days after deciding to enter the porn biz, and we got to pop her BDSM cherry! Schwing! Just 19-years-old, Charli thinks she has a long and promising future of getting her ass and pussy destroyed on video, but we had to make sure she's a world-class sex slave. We brought out Master Bruno and nearly every toy, dildo, cattle prod, violet wand, riding crop and whip in his arsenal for this scene. So, do you think Charli made it through the rough sex test? Before you answer that, here's a few of the training exercises Charli received. First, she was collared, chained and tightly bound while straddling a Sybian fuck machine turned all the way up. Her pussy, thighs and tits were spanked hard with a stiff leather riding crop and flogger until she looked like a grilled steak. Next, she was viciously fingerfucked with four fingers while she gave him a sloppy deep throat blowjob. Her pussy was penetrated and pounded out from behind, and then she was secured by ropes and leather straps to a post where her ass was beaten raw. A violet wand shocked her asshole numerous times and a Hitachi vibrator was stuffed into her pussy. By now, her pussy was bright red, but then Bruno pulled out a cattle prod and shocked Charli's fudge pipe and clit over and over. A brutal hardcore fucking finished Charli's painful exam, but did she pass? Find out.
Bibi Miami & Callie Calypso
March 9, 2016
We don?t often brag about our scenes because we believe they speak for themselves. Sometimes, the stars really align and we manage to capture some action while filming that is just Next Level. That is the case with the footage of Bibi Miami, Callie Calypso and Master Bruno. HOT? This scene redefines that word from the jump. As the scene opens, sex slaves Callie and Bibi are tied together with rope, back-to-back, wrist-to-wrist, and kneeling nude on the concrete floor with clothespins on their nipples. They have burlap bags over their heads. Master Bruno enters the room brandishing a leather whip and riding crop. He whips both girl?s tits so hard the clothespins fly across the room. The training has just begun. Then, he pours a bucket of water on their heads Gitmo style. Frightened, in pain, but totally turned on, the girls don?t know what to expect next. Bruno digs into his toy chest and finds a nasty Violet Wand he uses to shock their nipples and clits into submission. More water bondage, more toys, hard slapping, harder spankings, deep throat blowjobs, deep penetrations into all of their slut holes, and a mind-bending ride on a Sybian fuck machine? and we?re only half way through the scene!!! Next, the girls are bound into a 69 position on a bench. Callie has a face dildo on and is fucking Bibi Miami?s pussy while Bruno savagely fucks Bibi?s mouth and whips her ass at the same time. Get the point? Off the fucking rails! Watch now!
Bibi Miami
February 24, 2016
One of life?s many pleasures is watching beautiful women get put through the BDSM ringer by masters like Bruno. Take a cute blonde with a great set of tits like Bibi Miami and a relentless taskmaster like our hero, and you've got a recipe for some top shelf bondage, deep penetrations, complete domination and submission, and rough sex. Round one for Bibi Miami begins with her getting finger blasted while her hands are tied behind her back. Uncontrollable orgasms rip through her body. Several hard slaps in the face warm Bibi up for round two and make her focus on the punishing training that lies ahead. Next, master cuts right to the chase and fucks her pretty face like it?s his last day on earth. He spits in Bibi?s face and whips her, and just when you think the humiliation can?t get any worse, he breaks out a jumbo dildo on a stick and violates what?s left of Bibi?s cum sockets. Bibi digs it all!
Lily Ligotage
February 17, 2016
Trussed and tied with rope like a Christmas roast, no body part is off limits for Lily Ligotage?s cruel master and his evil bag of tricks. A ball gag is necessary to muffle the screams this cute and curvy girl next door type makes as she is toyed, throat fucked, clothespins on her nipples and beef curtains, shocked with a cattle prod on her brown star and throbbing clit, and all of her private spaces are violated with a variety of big fat dildos on broomsticks. Only Lily?s complete bondage will lead to the total submission her master seeks. Lily?s BDSM training session kicks off with cruel and painful humiliation at the business end of a cattle prod. Her asshole and clit are stung with jolts of high voltage while the master viciously fingerfucks her and then relentlessly ravages her love holes with his huge hung cock. Next, he stuffs a vibrating wand deep in her snatch and then gives her over-excited, shaved pussy an introduction to his leather whip. Her entire body quivers with ecstasy with every caress of the flogger. A rough sex fisting finale wraps up this completely off the chain show. Yeah, Lily is a real deal pain slut!
Layla Price
February 10, 2016
We can all agree that the greatest contribution California has made to the world is a seemingly endless supply of hot, blonde, tanned, tight babes who look waaaay better naked than they do with clothes on, and who also love dirty, kinky, experimental rough sex. Wait, what? You didn?t know about the last part with the kinky rough sex? Oh yeah, totally true, they are all down with that. Cum too. They love slurping down that hot, sticky cum after a wild, hard ass pounding or pussy fucking, and maybe a deep throat blowjob. They totally love it. Totally! Little Layla Price is a true California girl and she loves all of those things. She also loves having a few sex toys and fucking machines work her pussy and ass over before during and after the sausage party. Layla loves ropes and the sting of leather on her skin and earning those orgasms the hard way through painful BDSM training and humiliation at the hands of her brutal master. We Love Layla!
Esmi Lee
February 3, 2016
The sexy (and bisexual) Esmi Lee, usually a Fetish Network lesbian dominatrix, is back for more sex slave training and a good round of rough sex! This time around Mistress is putting all three holes on the line for her Master: mouth, pussy, asshole. Yes, Esmi Lee agreed to an anal sex shoot and wants to be wrecked! Of course, she will also endure rope bondage, spanking, slapping, smacking, flogging, deep anal and cunt penetration, constant orgasms, deepthroat blowjobs, humiliation. Esmi's Daddy makes her beg for his cock and teaches his slut how to properly serve him.
Layla Price
January 27, 2016
The submissive and obedient horny slut Layla Price is back to play in our dungeon for a true disrace. She's immediately prepped for rope bondage and domination fun. She loves being slapped and spanked, gagged and fucked roughly, deep and hard down her throat and pussy. Red ball gag in her mouth, tight rope around Nikki's wrists and ankles, sat on the sybian fucking machine. It's turned on and her Master widens her mouth for his massive dick. He makes her give him a deepthroat blowjob, pushing his meat in as far as it can go, bobbing and slapping her head on it. Nikki begs for more as the vibration intensifies and spit pours out of her mouth and spread all over her face. He enjoys smacking her pussy, tits and face awake before shoving his cock in her mouth again. She can't help gagging on his dick. He wants her to cum a few times before he widens her pussy. Turning the sybian on high usually does the trick. Next, Layla is placed on the floor, wrists and legs tied to the grounds, legs kept spread eagle. Her Master slaps her pussy and torments it with a vibrator, the last thing Price wants. Her cunt is trembling from what's it's been given. He has to cover her mouth from all the screaming and begging for mercy. Her pussy doesn't need lube from the multiple orgasms, allowing the wand to glide all over her clit and pussy lips. It's time for rough penetration! Her Master hovers over and dips his dick deep inside Layla's pink hole. It's still too much for her tight pussy to handle. Too bad! Her Master doesn't care. He pounds her pussy in, ball gag in her mouth to muffle all the noise she's making.
Latest SexualDisgrace.com Updates