Latest SexualDisgrace.com Updates
Jasmine Caro
April 15, 2015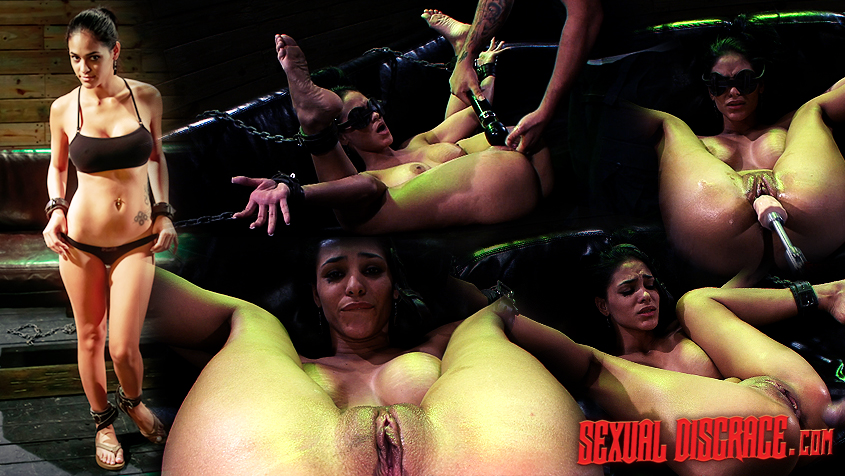 I considered myself to be a tough woman who could take care of herself. I was proven to be a weak whining girl after my sexual disgrace. It's what my Master wanted. Blindfolded, he chained me on his cold leather couch, arms pulled to the side and legs pulled back for easy access to my pussy. He started things off simple enough with fingering and a vibrator. It felt so good I couldn't hold back my giggles. He did this for awhile. The vibrations became more intense, more and more fingers entering me, feeling around for my g-spot. I began to get nervous. I've never masturbated so long. Since he wouldn't let me cum it was a challenge to endure. He finally stopped. But I could hear him fiddling with something. I suddenly felt something placed deep in my pussy. A switch popped on and I realized it was a fucking machine. It was going fast and deep. I couldn't concentrate on it since my master brought back the vibrator, fucking my mouth at the same time. I felt so disgraced.
Hannah Heartly
April 8, 2015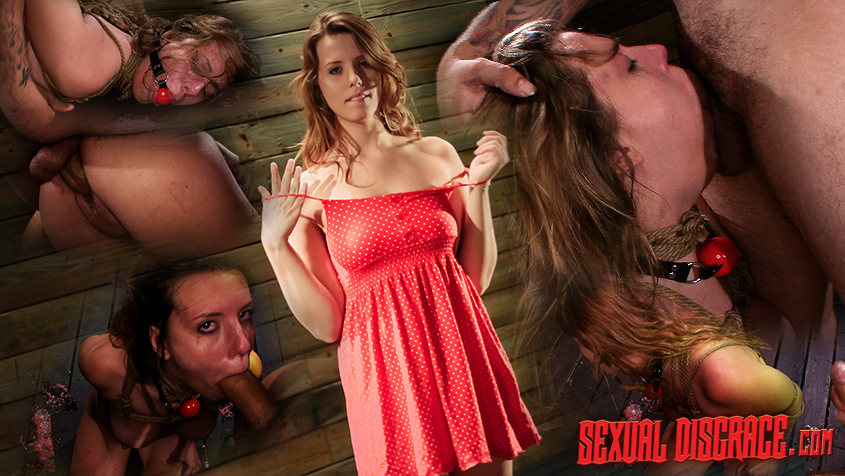 All I remember from that night is my Master's cock pounding my deep throat, gagging over and over. He didn't care what came out of me. He grabbed my hair and pried my mouth open for his pleasure. All I could was take it. My arms were tied behind me, my breast bound tight, making any movement I made hurt. It was pure agony. But I liked it. I was grateful when he slammed my face against the floor and entered me from behind. I'm not sure which hole was suited better for this man's horse cock. I was screaming so loud, he popped a ball gag in my mouth. It didn't stop me from screaming. He was fucking me rough and deep. He would surprise with his dick in my mouth. I could taste my pussy on his shaft. I wanted more.
I've never been tied to the floor by my wrists. I learned quick I shouldn't struggle. The rope burns too much. I needed my strength for what came next. My Master appeared from behind, his dick hard as a rock. I was afraid of it. It looked like it would tear every hole he wanted to put it in. My mouth was first. He warned me of his love for deep throat. His cock definitely was big enough for it. I couldn't take much of it. I gagged every time he pushed it down my throat. I tried to move away for a break. He would raise me right up for more. He didn't care if it was too much for me to handle. I did get a break, but my pussy was the reason why. It had to endure what choked me. He's so rough. Every time I fell flat to the floor, he picked me up and pounded me faster and harder, reaching deep inside my pussy. Maybe gagging on his dick was easier. It wasn't. He stood back up and shoved his dick in my mouth. My pussy was aching already.
Marley Blaze
March 25, 2015
Waiting for my Master to appear tied against a post was extremely nerve racking. There's no telling what he had planned for me. He convinced me that I needed a proper sexual disgrace for all my misdeeds. I took the time to think of my perverted actions. When he finally entered, he pushed my face aside. I wasn't allowed to look at him. He wanted my pussy wet so he grabbed a vibrator and teased my clit and lips. I got wet so fast. It must have been his fingers stretching my mouth open, tasting sweat and metal. He untied me from the wall and bent me over a crate. He spanked and rubbed my ass for awhile, making me believe it belonged to him. The next thing I knew I was on my back, a fucking machine on high speed between my legs and my Master's cock sliding in and out my deep throat. I was blinded by my own spit dealing with orgasm after orgasm.
My throat still hurts. I've never deep throat-ed so much in my life. His dick was so big. I didn't even touch it. He left me against a column for awhile, my wrists tied and my arms pulled back. I couldn't release myself. I tried so much, but the rope wouldn't loosen. I had no choice but to wait for what was planned for me. I think he heard me struggling. He walked in, grabbed my head and widened my mouth with his massive dick. I've never seen one so big. I wouldn't know what to do with it. I definitely learned how to use my throat. He kept pushing his dick in deeper and deeper, faster and harder. I teared up instantly, spit pouring out of my mouth as I gagged over and over. I thought my cries would make him stop but it only made him use my mouth more. It seemed like days of deep throat-ing his cock. When he was finally done, I thought my disgrace was over. But it only the beginning. He laid me on top of crate, my legs tied open for his high speed fucking machine. He continued fucking my mouth, rubbing the spit leaking out all over my face. I couldn't focus on either dick entering me. I hope he could tell my screaming was from cumming so many times.
Becca Diamond
March 11, 2015
I'm usually in control of everything. I can't say I'm a fan of handing it over to someone else. Yet, I couldn't resist my new Master. I've always been curious to see him at work. The ony way I could is by going through my own sexual disgrace. He felt I deserved disgrace. He had me arrive in a black corset. He wanted to see one on my tight fit body. He bent my arms and legs, binding them with rope. If I wanted to getaway, I'd half to crawl on my elbows and knees. The way he was playing with my pussy and thick clit, I wouldn't want to escape. I loved him reaching inside my pussy and tickling my g-spot, rubbing a vibrator anywhere he could. All I wanted was his dick. He let me feel it under his pants when we met. But my pussy was too tight. He wanted it opened up for a smooth glide. I could tell he would ravish me. So he brought over his fucking machine, it's sole purpose to loosen my pussy. But my mouth would be put to work. He shoved his dick deep down my throat. Spit was everywhere. I was glad. It's the only way I could deep throat his dick. He made sure to use my ability well.
My master wants me to talk about the sexual disgrace he put me through. I'm not sure if I'm even ready to share it with anyone. But I must do what I'm told. He first tied me up with rough rope. He's quite talented with shibari rope tying. He bound my breast and hands tight. Every time I moved it seemed the ropes tightened. He left me waiting in his lair, ball gag deep in my mouth. I never knew when he would arrive. When he finally did he went right to work. He bent me over and pulled my panties off, his fingers instantly in and out of my pussy, using spit as lubricant. I must confess I came twice. Being unable to move or speak was exciting as three fingers opened me up. He propped me on my knees and ripped the gag off my face, plunging his great big thick dick down my throat. I've never deep throat-ed a cock before. Feeling it slide down my esophagus made me gag so much, yet I wanted more. He was so rough. He didn't care how badly I gagged. That's exactly what he wanted. I was ready to take his long dick, but he said I wasn't ready. He hooked up his fucking machine to my pussy as he continued bobbing my head on his dick. When he was satisfied, he left me alone, the machine still pounding my pussy.
Rachael Rae is one of those rare girls that aims to please. She tells us that she once tried to stretch her asshole with a buttplug so she could have anal with a boyfriend. Sadly, it didn't work out. Unfortunately, Racheal's best efforts to please Master Bruno will also end with the same humiliation. Bound to a table face down, gagged and her pussy spread apart, the master begins her submission with a spirited caning and flogging of her ass and thighs. Ouch! That's gonna? leave a mark! Next, her whore cunt is roughly finger blasted until she cums, and then a deep penetration fuck follows with a huge dildo on a stick. If that wasn't enough foreplay, she gets her clit suction pumped, her pussy shocked, and her vag hole hammered with a Hitachi wand. Only then does Bruno throat fuck her, pound her snatch to ribbons, and deliver a giant oral cream pie in her mouth. Total insanity!
Her pale skin, nipples and clit redden quickly with the whip, crop, cane and cattle prod. She smiles and asks for more like the shameless painslut she is when she is fisted and fucked with a double dong? she is Kaisey Dean, and this depraved newcomer is eager to prove herself in the dungeon and for Master Bruno. This scene is one of the hottest we've ever filmed, and now we present it for your approval. There's nothing she won't try, and doesn't seem to have a breaking point. Straddling the Sybian fuck machine turned all the way up, Kaisey also gets the Hitachi on her clit at the same time. She loves it! Later, Kaisey gets fingerfucked until she has several squirting orgasms, but really goes wild when Bruno's fist goes all the way up her gaping cunt. With her hands tied behind her back, Bruno fucks Kaisey reverse cowgirl with his huge hung cock. So hot! Next, her pussy is pumped with a vacuum pump until it puffs up nicely, and then it's whipped and cropped with various floggers. The scene ends with her swallowing a huge load of cum and telling us what a filthy bitch she is. She ain't kidding.
Alexa Pierce
June 2, 2014
Alexa Pierce takes her slave training very seriously, well, her Master and Mistress do anyway, and Alexa?s humiliation and submission in this scene is total. It is a textbook BDSM and domination session, and leaves her whimpering, welted and her giant funbags streaked with tears, rope burns and bruises. Tied to a wall with a rope harness like a sack of potatoes with her legs spread open allowing easy access to her sex slave slut pussy, Mistress Esmi Lee and the master take turns stuffing things inside of her insatiable slopholes. Master uses his cock and then a huge dildo on a stick for even deeper penetration. Alexa is made to give him a deepthroat blowjob while Esmi slaps her huge cream cannons around and fucks her from behind bent over a leather couch with a huge rubber cock. A Hitachi wand on her clit and more tit brings the party to a screaming orgasm, and a filthy piledriver fuck from the master finishes Alexa off.
Latest SexualDisgrace.com Updates