Latest SexualDisgrace.com Updates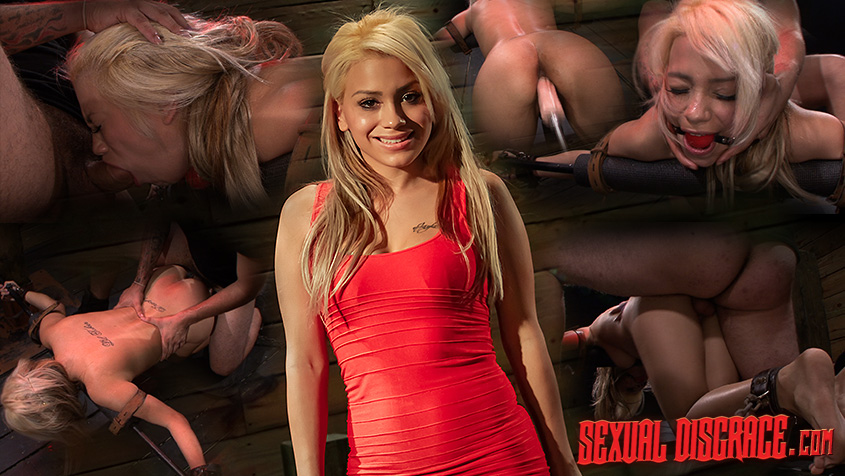 I don't know what he wanted from me. I'm sure I never met him before. But he brought me to his dungeon, bent me over and tied me to an arm rack, belts keeping me in place. I was vulnerable to any desperate sick guy, like my new Master. I didn't see when he came in. His touch from behind startled me. His first dip into my twat made me quiver. His cock was so big. My pussy is too small to handle such length and girth. It didn't stop him from fucking me fast and deep. He was out of control. All I could do was hold on tight and take the pounding. He would randomly walk around to make me gag. I've never taken a cock like his deep down my throat. I'd gag the moment it touched my nostrils. But it was a big relief from getting fucked. He obviously noticed and brought something out for me: a fucking machine. He teased my pussy a bit before letting it go on full speed. He continued playing with my throat, bobbing my head on his hard knob.
Velma DeArmond
May 13, 2015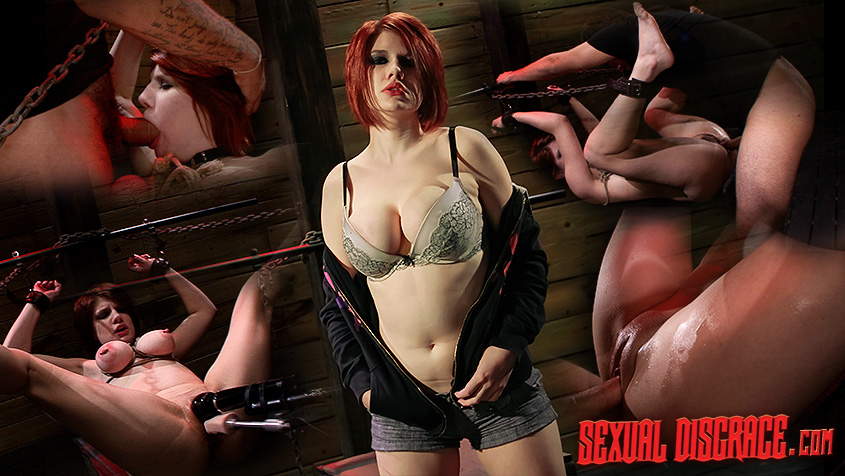 Chains scare me. They remind me of prisoners. Maybe that's why my new Master used them to bind me down. I didn't want to struggle too much. My arms and legs were chained to a post, a single crate keeping me from hanging there. I'm not sure why I deserved such sexual disgrace. It's what I kept thinking as he fucked me deep. I'm usually tight and shallow. He didn't care. He went as fast as he wanted, pushing his cock in me as deep as he could. I kept pleading for mercy. I couldn't handle his massive dick. Yet, instead, he brought out a fucking machine with a dildo just like him, only on crack, going faster than any guy I've been. I couldn't whine. He had me by my hair, holding it in place to deep throat every inch he owns.
I ended up in my Master's dungeon again. The third time. But I was surprised when I saw it was him about to use me. It must've been someone he knew. I hope. I was chained to carton, my legs spread open wide. My head hung off the box giving easy access to my mouth. This new Master knew what to do for a successful session. I still question where they both get so much energy. He fucked my throat balls deep, making me gag and excrete spit down my face. He walked over to my pussy and shoved his dick in roughly, drilling me rough and deep. If I wasn't chained to the crate, I'd fall off for sure. When I thought he was done, he walked over to my face and made me taste my cum off his cock. It tasted so good. He must of read my mind because he went right back to my pussy for more of my cum to feed me.
Stella May
April 29, 2015
No one warned me of something like this. I've experimented sexually with a few boyfriends before, but I was always in control. I definitely had use of my hands and feet. I'm sure none of my guys would tie me to a crate, my left leg tied all the way back, nipple pumps aching my tits. I couldn't stop shivering. I wondered what he would do to me. I finally found out. He grabbed my head, turned it and filled my mouth with his cock. I couldn't push him away when he stayed in my throat for too long. I've never had so much spit ooze out of my mouth, hoping for a clear breath of air. The only time I did was he got my between my legs. My leg tied back gave him enough room and access for whatever he wanted. All I could do was watch. He kept moving back and forth, taking turns obliterating my throat and pussy. I was so turned on. I wanted him to use me more. But he surprised me with something special: a vibrator. He placed it on my clit. It was too much to handle. I couldn't control myself. He had to hold me down and gag me. I still continued jerking around and yelling as each orgasm built up for the next. He left me cum dizzy and shaking for hours.
Kimmie Lee
April 22, 2015
I'll do anything for my Master. I loved when he tied me up and left me in his basement that first time. I felt so cold, my arms sore from being bound behind my back, my breast wrapped tight in rope. I wanted to taste his dick so bad. All I hoped for was his arrival. I got my wish. He pulled me towards him and shoved his cock deep down my throat. I wish I didn't need to pull away for air. It's less time devouring his great dick. He had my hair in his hands, juggling my head on his manhood. He threw me against a post and tied me to it, my ass out for him to play with. He kept teasing me with a vibrator, rubbing it against my sensitive clit, using my natural pussy cream to reach deep inside. I couldn't control my pants and moans. He suddenly buckled a ball gag around my head, my screams muffled, screaming from him ramming me hard and fast with his meat. He wouldn't slow down for a minute. My pussy belonged to him. If that was disgrace, I earned it.
Jasmine Caro
April 15, 2015
I considered myself to be a tough woman who could take care of herself. I was proven to be a weak whining girl after my sexual disgrace. It's what my Master wanted. Blindfolded, he chained me on his cold leather couch, arms pulled to the side and legs pulled back for easy access to my pussy. He started things off simple enough with fingering and a vibrator. It felt so good I couldn't hold back my giggles. He did this for awhile. The vibrations became more intense, more and more fingers entering me, feeling around for my g-spot. I began to get nervous. I've never masturbated so long. Since he wouldn't let me cum it was a challenge to endure. He finally stopped. But I could hear him fiddling with something. I suddenly felt something placed deep in my pussy. A switch popped on and I realized it was a fucking machine. It was going fast and deep. I couldn't concentrate on it since my master brought back the vibrator, fucking my mouth at the same time. I felt so disgraced.
Hannah Heartly
April 8, 2015
All I remember from that night is my Master's cock pounding my deep throat, gagging over and over. He didn't care what came out of me. He grabbed my hair and pried my mouth open for his pleasure. All I could was take it. My arms were tied behind me, my breast bound tight, making any movement I made hurt. It was pure agony. But I liked it. I was grateful when he slammed my face against the floor and entered me from behind. I'm not sure which hole was suited better for this man's horse cock. I was screaming so loud, he popped a ball gag in my mouth. It didn't stop me from screaming. He was fucking me rough and deep. He would surprise with his dick in my mouth. I could taste my pussy on his shaft. I wanted more.
I've never been tied to the floor by my wrists. I learned quick I shouldn't struggle. The rope burns too much. I needed my strength for what came next. My Master appeared from behind, his dick hard as a rock. I was afraid of it. It looked like it would tear every hole he wanted to put it in. My mouth was first. He warned me of his love for deep throat. His cock definitely was big enough for it. I couldn't take much of it. I gagged every time he pushed it down my throat. I tried to move away for a break. He would raise me right up for more. He didn't care if it was too much for me to handle. I did get a break, but my pussy was the reason why. It had to endure what choked me. He's so rough. Every time I fell flat to the floor, he picked me up and pounded me faster and harder, reaching deep inside my pussy. Maybe gagging on his dick was easier. It wasn't. He stood back up and shoved his dick in my mouth. My pussy was aching already.
Marley Blaze
March 25, 2015
Waiting for my Master to appear tied against a post was extremely nerve racking. There's no telling what he had planned for me. He convinced me that I needed a proper sexual disgrace for all my misdeeds. I took the time to think of my perverted actions. When he finally entered, he pushed my face aside. I wasn't allowed to look at him. He wanted my pussy wet so he grabbed a vibrator and teased my clit and lips. I got wet so fast. It must have been his fingers stretching my mouth open, tasting sweat and metal. He untied me from the wall and bent me over a crate. He spanked and rubbed my ass for awhile, making me believe it belonged to him. The next thing I knew I was on my back, a fucking machine on high speed between my legs and my Master's cock sliding in and out my deep throat. I was blinded by my own spit dealing with orgasm after orgasm.
My throat still hurts. I've never deep throat-ed so much in my life. His dick was so big. I didn't even touch it. He left me against a column for awhile, my wrists tied and my arms pulled back. I couldn't release myself. I tried so much, but the rope wouldn't loosen. I had no choice but to wait for what was planned for me. I think he heard me struggling. He walked in, grabbed my head and widened my mouth with his massive dick. I've never seen one so big. I wouldn't know what to do with it. I definitely learned how to use my throat. He kept pushing his dick in deeper and deeper, faster and harder. I teared up instantly, spit pouring out of my mouth as I gagged over and over. I thought my cries would make him stop but it only made him use my mouth more. It seemed like days of deep throat-ing his cock. When he was finally done, I thought my disgrace was over. But it only the beginning. He laid me on top of crate, my legs tied open for his high speed fucking machine. He continued fucking my mouth, rubbing the spit leaking out all over my face. I couldn't focus on either dick entering me. I hope he could tell my screaming was from cumming so many times.
Latest SexualDisgrace.com Updates