Latest SexualDisgrace.com Updates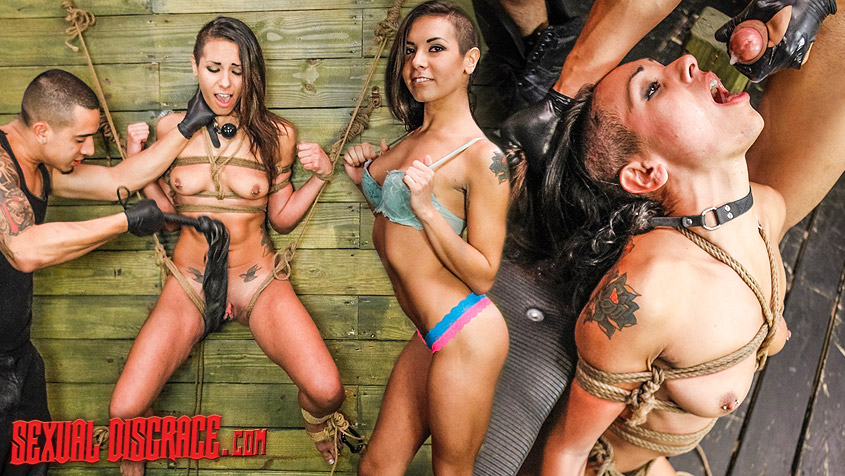 Occasionally, a special type of girl finds her way into our BDSM dungeon, and this kind of girl is highly coveted, for she can?t get enough pain and punishment, and that becomes a challenge for Master Bruno he MUST accept. Beautiful and hot-blooded Isa Mendez has appeared here before, and she is a tough nut to crack, but this time, she brings her ?A? game and can?t wait to see who breaks first. Like she has a chance. Bruno ties her into a rope swing with her legs spread wide open. A clit vacuum pump stretches her little love button into a party-sized target as big as a finger for the master?s whips, toys and vibrators. Next, a larger pussy pump is applied until her entire twat and labia are several times their usual size. Bruno then breaks out his leather flogger and whips Isa?s vacuum-plumped vage until it is totally wet and ready to receive his huge hung cock. Total pussy submission. A nice long bang session ensues, and you can see the enjoyment spread across Isa?s face as master fucks her to numerous orgasms and then ends the party with a dildo on a stick. Isa?s training ends for now with a huge load of cum dispensed into her deserving mouth. Like the good little sex slave slut she is, Isa sucks it all down.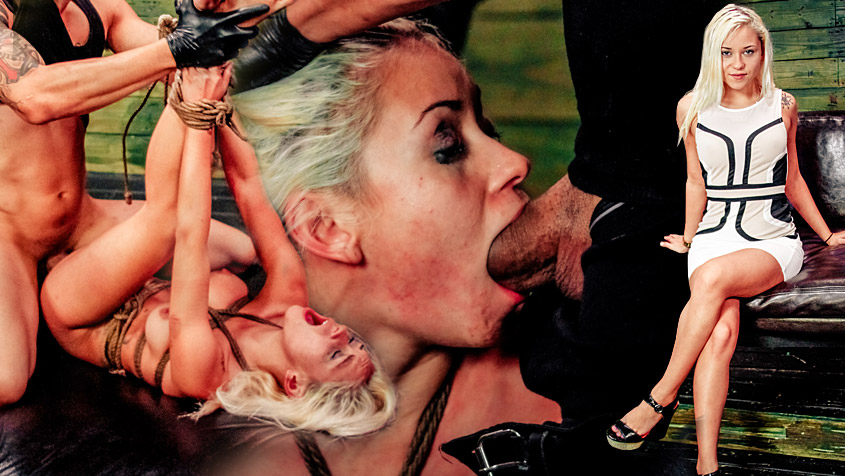 Beautiful and busty-rific Bibi Miami with her blonde hair and tight, firm body submits her entire physical and spiritual being for the amusement and manipulation of her cruel master, Bruno. He?s more than happy to dominate her into submission because he has a ?particular? set of skills? BDSM skills he will use to reduce Bibi to little more than a shivering, quivering pile of jizz-covered sex parts, and basic human functions like screaming, crying and having orgasms. He also happens to possess an oversized cock to bring this cruel pussy party to an energetic finale that begins with Bibi spread wide open with her ankles tied to her wrists with rope. Toys are always good for dirty sluts, and master B has two powerful vibrating wands to ravage Bibi?s gash with. One penetrates her pussy deeply, all the way in, and the other goes on her clit until she cums so hard she almost faints. Then, in a cruel twist, he puts the wand that was in Bibi?s pussy into her mouth. Bibi finally gets the veiny prize when the master plows her fuck wallet until he fires a big load of cum into her mouth. A beautiful cumshot and oral cream pie finale.
Lily Ligotage
May 22, 2014
In the world of the sex slave, there?s a constant desire for that slave to prove him/herself worthy. Not all of them can achieve that, and this can be the fault of either party, but with the right master and the right training, an acceptable level of submission can be reached? and that?s when the real fun begins! Lily wants to become the perfect slave, and she definitely has the right master, but will she reach her goal? Lily comes correct with a metal hook in her ass while also bound tightly with a rope harness that controls her entire body like a fuck puppet. First, she is brutally fingered with the master?s latex-gloved hand. She is also spanked on her shapely ass. Next, the harness is used like the reins on a horse to control her and pull her body against a timber post where a huge black dildo has been nailed and mercilessly slams into her holes. Clothespins pinch her nipples as she is pounded by the master?s cock doggie style while standing up. She is then whipped all over with a leather cat o? nine tails until she?s properly marked. Spread eagle and tied into position, Lily?s pussy is deeply penetrated with toys, dildos and vibrators. Lily finishes her master like a good sex slave by sucking on his sweaty balls while he jerks off into her open mouth. Spurts of hot cum flow into Lily?s mouth and coat her tongue. Will this make Lily the perfect slave?
We like the way Layla Price parties and she starts this one off right with not one, but two enema syringe injections, and this scene only gets crazier from there. You?ve seen those huge, black vibrating wands with the massage head that looks like a giant marshmallow, right? Our Layla gets one of those jammed all the way up her tiny little asshole where it stays for most of the rest of the scene, much too large to work itself out, even when she?s getting viciously fingerfucked and her clit vibed to bits with another wand by the unyielding master. Girls and their toys. Later on, up on all fours with a jumbo buttplug keeping that gape going, Layla learns the real meaning of BDSM when a fucking machine is introduced to her rear exit. She takes it like a champ though, and as the master increases the speed of the tireless machine, he smacks her ass with his hand to let her know that he is always in charge. Some super rough anal sex is on deck next, and Layla?s complete submission and humiliation cums to an energetic climax with a brilliant anal cream pie that is then spooned out of her ravaged bunghole with a plastic spoon and fed to her to be recycled as an oral cream pie. WTF? Exactly! Genius!!! Can Layla?s asshole take all of this? Maybe, maybe not, but she?s about to find out!
Esmi Lee, hot and noted porn start, a regular here at Fetish Network for lesbian domination, is back for another sex slave training session. Her Master wants all three of her holes: mouth, pussy, asshole. Esmi has a sexy bubble butt, perfect for rough anal sex! She does enjoy and endures rope bondage, fingering, spanking, slapping, smacking, flogging, deep anal and cunt penetration, constant orgasms, deepthroat blowjobs, humiliation. Lee might earn a cum shot facial from her Daddy. She has to beg for it!
Layla Price, one hot and horny sub slut, is back to explore her love for BDSM and rope bondage. Get ready for a domination clip to freshen your porn favorites. Layla is left on a mattress on the floor, wrists and ankles tied together. This video contains a very pleasant surprise. Layla's Master brought along his trusty anal hook. Layla is known for taking things up her asshole. So the hook with a big steel ball shouldn't be a problem. He ties the other end to her hair. He ties a ball gag over her mouth and lodges it deep into her mouth. He enters her pussy with his his fat cock, wrecking it instantly. He takes another rope and ties her wrist to the wall and makes her ride his cock. You'll get a better view of the hook up her tight hole while her pussy endures deep penetration. He stands up and gets a deepthroat BJ. Spit is streaming out of her, covering her huge tits. Her Master taunts her, making her tell him what a whore she is, slaps her face and tits, making her gag more. Hearing Price moan and scream she's a dirty slut will make anyone cum in their pants. She seems tired but won't stop. She definitely deserves a load of his cum. She wants it badly. She begs for it and will only get it if she swallows every drop. She keeps her mouth open for her treat.
One of our favorite porn slut sex slaves is still in session for her first disgrace. Hot and horny Isa Mendez wrists are shackled to a wobbly seat that is under her back. Her ankles are bound together and pulled up high in the air. He wants total access to her bubbly ass and tight pussy. He inspects his sex slave's pussy and asshole, spanking her a bit. She can't go far since she has to balance herself. She has to endure this rough fuck. He penetrates her deep, opening her up wide. She can barely handle it. He pounds her in, pulling her ass with ease onto his pole. Isa can't stop screaming, cumming over and over. He needs more spit, so he walks around and gets a deepthroat blowjob. Her head tilted back allows him to skull fuck her with ease, pushing his entire dick in. He walks back and continues fucking her. Isa has earned a load from her Master. He takes her down and links her neck and wrists to a post, her ass poked out for him. She takes his cock down her throat to his balls. All he wants to hear is Isa gag on his thick shaft. He expects plenty of spit. Isa loves all the slobber that falls from her mouth. She loves feeling her Master's dick expanding her throat. He props her up fucks her doggy style. It sounds like she enjoys his cock when he grabs her head and uses it to bounce her on his throbbing manhood. She begs for his cum. She's going to have to swallow every drop of jizz.
There are only a few porn sluts that can hand our level of play we offer here at Sexual Disgrace. We definitely love to see them endure multiple orgasms and enjoy their submission. Fetish Network presents Asian porn slut Mena Li. She's introduced to our trusty sybian fucking machine, a delightful surprise for all of our sex slaves. Li knows it quite well. This time around in rope bondage, she's kept sat on the fucking machine, wrists tied spead apart to her side, neck kept in place her hair. Mena finally meets her Master with a flip of a switch and the constant vibration of the sybian. She struggles immediately to contain herself from the all the orgasms it's causing. Her Master pulls her hips down onto the sybian, clit pulsed with intense vibrations, making her ride it. He makes her gag on his cock, penetrating her throat deep and rough. He loves watching the spit fall from her mouth. That usually makes his sex slaves cum harder. She's doing well so far. Next, he brings her down onto the floor in the doggy style position, giving him full access to her pussy and mouth for face fucking. Her Master inspect his sex slave's pussy and asshole, pleased to see pretty pink. Li has learned how to be an obedient sex slave, following every order, taking every inch of cock, rough and deep, begging for forgiveness for being a dirty slut. Her Master goes back and forth from mouth to pussy, pussy to mouth, using her spit as lube and making her clean his dick of her cum. He even shoves her panties in her mouth as he fucks her face. He makes her moan and scream like a good whore should, pounding her in. He even smacks her tits, ass and face a bit. Mena is ready for more domination.
Charlie Stevens
May 16, 2014
Charlie Stevens, a cute newcomer to porn, is breaking her cherry with us. She's quite brave in doing rope bondage and BDSM rough sex for her first time. It certainly doesn't mean she'll be given an easy slave training session. Charlie is left on the floor, wrists and tits tied together, her knees raw on the wood. It seems she doesn't realize what's coming, laughing a bit. Charlie's Master bobs her head on his dick, making her take his fat cock deep down her throat. Spit is streaming out of her, covering her perky tits. Her Master taunts her, making her tell him what a whore she is, slaps her face and tits, making her gag. She's isn't giggling now. He tests her pussy with his big cock. Her tight pussy can't handle it. She better get used to deep penetration. Her Master decides to challenge this newbie more. She is put on her knees, her wrists pulled to her sides, ankles tied in place. Her new BDSM Master shoves his long boner back in her mouth, excavating deep down her throat, practically fucking her skull. Nikki wasn't expecting such a huge dick for her domination. She should have known better. Since she wants to be a slut, he wraps his hands around his neck, choking moans out of her, making her apologize for being a whore while gagging on his meat.
Rose Red Tyrell
May 15, 2014
Our hot and young Rose Red Tyrell, obedient BDSM sex slave, is still in the dungeon here at Sexual Disgrace. We definitely want to see if she can endure more rough anal sex. This time around, the sybian fucking machine is drilled on the floor and she's kept on with cuffs around her wrists and ankles down by her sides. Our Rose finally meets her Master again with a flip of a switch and the constant vibration of the sybian. Red struggles immediately to contain herself from all the orgasms it's causing. Her Master pushes her hips down, her pressed clit pulsed with intense vibrations, making her ride it. He chokes her a bit. That usually makes his sluts cum harder. She's doing well so far in her slave training. Maybe the anal hook deep up her asshole is helping her continue. Or her Master's cock deep down her throat. She's pulled off the machine and thrown onto a mattress. He fucks her pussy first, pounding her in rough and hard. Her Master wants to shove his long dick down her other pink. He pulls the hook out, lubes his cock and penetrates her, pushing his entire dick in a fun position. Rose is loving it all, begging for his cum. She's earned a load. He drops his spunk all over lips and in her mouth. She's such a pig, licking every drop on her face down her throat.
Latest SexualDisgrace.com Updates