Latest SexualDisgrace.com Updates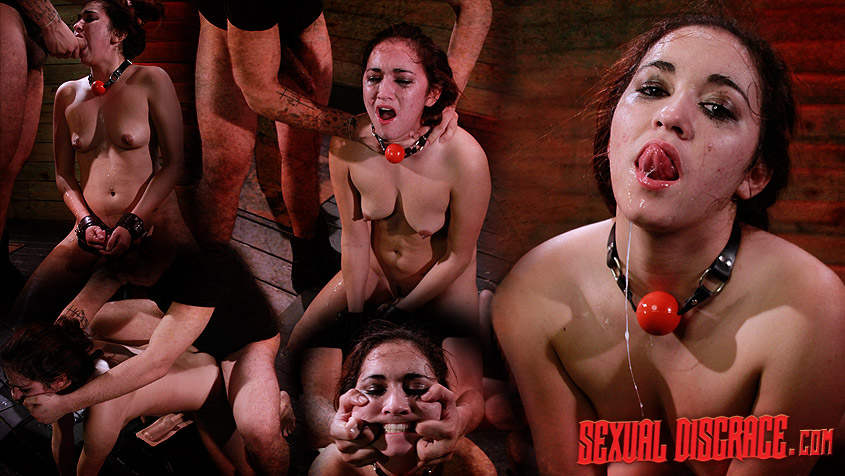 I woke up on the bare bed again and my wrists tied behind my back. Luckily my legs were free but my Master came in before I could get away. How does he get me here? I have to know. No matter how much trash I talk to him, he punishes me, slaps me around, smears my spit all over my face and torments me with his hard rock boner. He threw me all around the bed with such ease. I love being manhandled, covered in spit and pussy and mouth sore from so much cock. He fucks me doggy style, missionary, rough, hard and fast, loosening my pussy with his massive cock. Every time I screamed for more, begged for more dick, he would cover my mouth and give me exactly what I wanted. It was too much to handle at times. The constant orgasms made me quiver throughout the session. I didn't think I could take such a dick so rough. But I didn't care. Whatever it took to taste his cum, I'd do it without hesitation. I want to be the best sex slave he's every had. I have been through enough training. I'm pretty sure I know what he wants now. -Stella May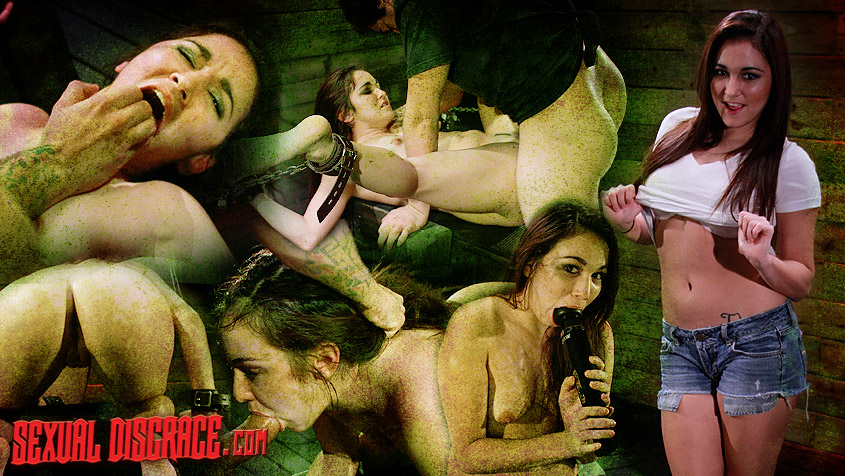 I'm so proud I've proved to my Master how well I please his long and thick meat. This session he wanted to test how well my pussy could take his dick versus the sybian he had me sit on for, well, not too sure how long it was. I thought I did last time, but he disagreed. He wanted to see inside my pussy, gaping me open as wide as possible with his cock, opening it wide. I wish he let me see how it looked. Instead, he rubbed on my g-spot making me cum within seconds. He knows how to make me orgasm over and over. My pussy tightens quickly, yet get torn apart when I see him. He starts me off on my back on a crate, wrists bound down on the sides, legs chained to keep them high in the air. I could definitely take his dick deep down my throat but wasn't sure I could take it in my pussy. The position allowed him to go deep inside of me. I had no choice. My legs and arms were chained down. Then he flipped me over, my wrists still chained to the posts. He was able to go even deeper doggy style. It's like his dick grows every time I see him. My pussy belonged to him for whatever he wanted. I hope I impressed him. Maybe I need another pussy test. -Stella May
Fiona Rivers
July 15, 2015
I was surprised to see my Master again. I suppose I must move further away. His slave and anal sex training is difficult to endure. He would probably find me anyway. This time he chained me down on top of a tormenting sybian. The twirling cock and rapid vibration kept my entire body tense, causing orgasm after orgasm. I've never cummed so much in my life before. His dick deep down my throat only helped to make me cum, spit oozing off my face. But he wanted my asshole again. He chained my neck and hands to a post. He took turns using his dick in my throat, pussy and asshole, raising me right back up every time I fell in exhaustion. I've never been put to work so long and rough. He likes to hear me moan and scream, his huge dick the cause of all the noise. I desperately needed a break from deep throat-ing his cock. It's way too big for me to swallow. I can't take it as long as he wants. I wish I did. Maybe he would take it easy, maybe not slap the back of my head as his dick reaches further down my throat, gagging all over myself. Whenever I thought he gave me a break, he stepped behind me to push his dick deeper and deeper in my asshole. When he did give me a chance to catch my breath, it was to watch me struggle with my confinement. It made him much more horny, which he took out on me. This time I left sore and cum drenched. I should run away, but his cum tasted so good. I want more. -Fiona Rivers
This session was rough. I couldn't believe how sore I was when he finally let me go. The last time my Master had me in his grip, I left tired and weak, weary from all the orgasms he made me have. I've never begged for so much cock before. This time I couldn't scream at all. If his dick was in my mouth, it was deep down my throat. If he was pounding my pussy in, he would pop the ball gag in my mouth or stretch my mouth open with his hands. That was my favorite part. All I could really do is endure it all and enjoy. My arms were tied behind my back, my legs trembling from being kept in his lair all night, waiting for him to use me. He took me from behind, making me take it like a bitch in heat. He'd slam me on the ground and threw me into whatever position he wanted. I loved when he made me sit on his cock, taking every inch down to his balls, and ride him like the stud he is. He kept plunging his dick into me further, spit oozing from my mouth, cream dripping from my pussy. I love it when he does this to me. Why? This isn't normal. Is it? Honestly, I don't even question it when he cums on my face. Maybe that's why I love it so much. -Jayden Rae
Dillon Carter
July 1, 2015
I woke up on the bare bed again, my wrists tied behind my back with tight leather cuffs. My legs were restrained as well. I wasn't going anywhere. Master came in. I heard his footsteps. Hearing him approach got my pussy so wet. I was excited to take his cock, prove that I'm a good slave and need no further training. He slaps me around before making me take his cock deep down my throat, smears my spit all over my face and torments me with more gagging. He threw me all around the bed with such ease. I love being manhandled, covered in spit and pussy and mouth sore from so much cock. The more I moan, the rougher he gets with me. I get scared sometimes he might do something more than he does, something I really can't handle. That's why I shut up but tempted to talk back again. I think he likes it. He gives me a huge steamy load of his sweet man juice every time I rile him up and take his punishing cock. I know I please my Master. -Dillion Carter
Hannah Heartly
June 24, 2015
I wanted more of my Master and his merciless disgrace. That's exactly what I got. This time around he tied me to a crate, on my knees and hands, easy for my mouth and pussy to be pounded in. That's exactly what he did. He took turns using his dick in my throat and pussy, raising me right back up every time I fall in exhaustion. I've never been put to work so long and aggressively. He likes to hear me moan and scream, his huge tool the cause of all the racket. He loves to yank on my long hair, using it to pull me back deeper on his erect meat, spanking my ass, training me to back it up myself. The entire time I was hoping he'd cum on me this time. I deserve cum this time.
Sheena Rose
June 17, 2015
My Master ceases to surprise me. This session I woke up on a bare bed, ropes hugging my legs bent, my ponytail and wrists tied to the top of the bed. I tried to getaway but he knows how to keep me bound in place for whatever he desires. No matter how much trash I talk to him, he pushes me down, slaps me around and punishes me with his throbbing cock. The only times I was still is when I was servicing his dick. He threw me all around the bed to do so with such ease. I must admit. I love being manhandled, covered in spit and pussy and mouth sore from so much cock. I wonder if he treats his other sex slaves the same. It seems like he puts me through his disgrace rougher than the rest. I'm not sure if I can endure his pleasures anymore.
Sheena Rose
June 10, 2015
I did not deserve sexual disgrace. But he managed to get me in his dungeon for his perverted use. I didn't want to crack but he was so rough and persistent with his huge dick. I've never seen one that big. He kept jamming it deep down my throat, my hair grasped tight in his hands for easy maneuvering of my head. If my hands weren't belted to a rod, I'd fight my way out of there. It would be the only way for him to fuck me the way he did. I'm too tight for a cock like his. I could feel my pussy stretch. Luckily nothing ripped down there. .
I've earned the reputation of a talented deep throat-er from my time chatting online. I've been dared to find some of the biggest dildos and swallow them whole, gladly showing off when I succeed. Maybe that's why he found me and bound me to a post in his dungeon. He left me in the perfect position for what he had in mind: on my knees, my arms pulled back to the post. He wanted to test how well I can actually deep throat a horse dick like his. He wasted no time, shoving his dick all the way down my throat to his balls. All he wanted to hear was me gagging on his thick shaft. I did like all the slobber that fell from my mouth. I didn't make it easy for him. I just wanted him to keep trying. I loved feeling his dick expanding my throat. He must have been impressed because he propped me up, blindfolded me and fucked me from behind. I enjoyed his cock in my pussy much better, especially when he grabbed my head and used it to bounce me on his throbbing manhood. He made me tell him how much I loved it. He even made me beg for more disgrace. I was actually being honest.
Becca Diamond
May 27, 2015
It's been awhile since I've seen my Master's face, felt his rough touch on my skin. I thought he forgot about me. I'm sure he's plenty busy with his other sex slaves. I must admit I think about him all the time, hoping to look up at him while he uses my throat with his massive cock. I love taking his hung meat deep down my throat. My gag reflex gets better and better. I'm sure I could take his dick down my throat for hours. He tested that. He even hooked up a fucking machine for my pussy. He loves playing with the speed dial, letting it go slow and smooth, hiking up the speed to 20mph, ramming my pussy in. I couldn't focus with his cock excavating my throat. I guess I have to work on my gag reflex more.
Latest SexualDisgrace.com Updates