Latest SexualDisgrace.com Updates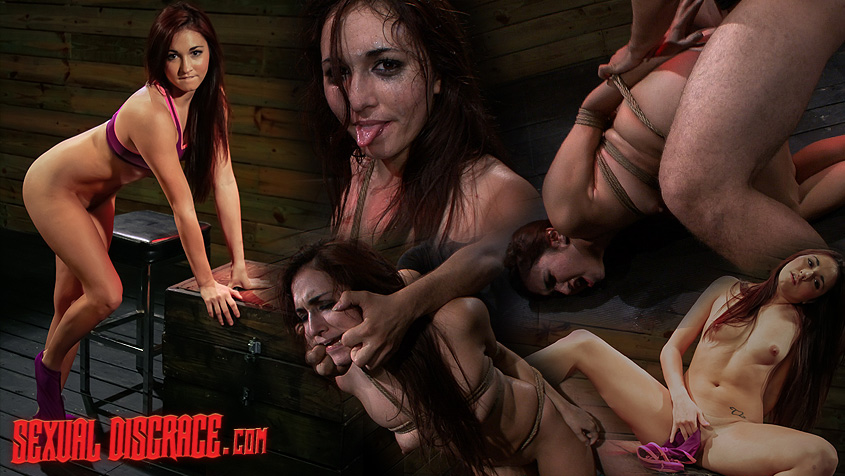 This session was rough. I couldn't believe it could be. The last time my Master had me in his grip, I left tired and weak, weary from all the orgasms he made me have. I've never screamed so much. This time I couldn't scream at all. If his dick was in my mouth, it was deep down my throat. If he was pounding my pussy in, he would pop the ball gag in my mouth or stretch my mouth open with his hands. That was my favorite part. All I could really do is endure it all and enjoy. My arms were tied behind my back, my legs trembling from being kept in his lair all night, waiting for him to use me. He kept plunging his dick into me, spit oozing from my mouth, cream dripping from my pussy. I love it when he does this to me. Why? This isn't normal. Is it?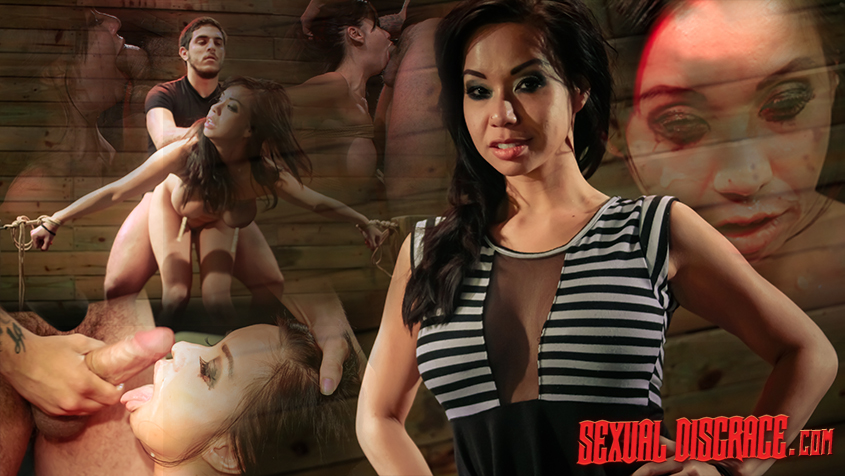 I can't resist my Master's need to bound my wrists with stiff leather straps, chained to posts pulling my arms apart. He also chains my ankles to the floor. How does he know I love this? I enjoy when he grabs my hair and makes me takes his dick deep down my throat. He doesn't care if I gag. He keeps shoving it as far as he can, smacking the back of my head to go further down my neck. I will take it all, as long as he wants. Of course, he also likes to stand me up, bend me over and pound my pussy in. His huge cock opens me up wide, reaching deep inside me. Sometimes it's too much but he doesn't care. He grabs my hips, pulls on my hair, slaps my tits, making me scream, pulling me back on his throbbing boner over and over. When my legs go numb from all the orgasms, he pushes me back down on my knees to clean my pussy juice off his cock. It tastes so good. I always beg for my Daddy's cum. If I've pleased him, he rewards me with load. I tend to get my wish.
I was surprised to see my Master again. I suppose I must move further away. He would probably find me anyway. This time he chained my neck and hands to a post. He took turns using his dick in my throat and pussy, raising me right back up every time I fell in exhaustion. I've never been put to work so long and rough. He likes to hear me moan and scream, his huge dick the cause of all the noise. I desperately needed a break from deep throat-ing his cock. It's way too big for me. I can't take it as long as he wants. I wish I did. Maybe he would take it easy, maybe not slap the back of my head as his dick reaches further down my throat, gagging all over myself. Whenever I thought he gave me a break, he stepped behind me to push his dick deeper and deeper in my pussy. When he did give me a chance to catch my breath, it was to watch me struggle with my confinement. It made him much more horny, which he took out on me. This time I left sore and cum drenched. I have to get away from him.
Hannah Heartly
April 22, 2022
I wanted more of my Master and his merciless disgrace. That's exactly what I got. This time around he tied me to a crate, on my knees and hands, easy for my mouth and pussy to be pounded in. That's exactly what he did. He took turns using his dick in my throat and pussy, raising me right back up every time I fall in exhaustion. I've never been put to work so long and aggressively. He likes to hear me moan and scream, his huge tool the cause of all the racket. He loves to yank on my long hair, using it to pull me back deeper on his erect meat, spanking my ass, training me to back it up myself. The entire time I was hoping he'd cum on me this time. I deserve cum this time.
Lola Love
August 27, 2021
He found me! I thought I'd lose him for sure. He left me in his lair again, arms tied tight behind me, a potato sack over my head. I couldn't see anything. I only realized he was in the room when he pulled the sack off. He immediately pulled me onto his filthy couch and shoved his dick down my throat. Every time I pulled away for air, he pushed my head back down, sliding his huge dick as deep as he could down my throat. He's always so rough with me. I begged him to be nice which only made things worse. He grabbed a vibrator and tormented my clit with it, making me cum so many times. The vibration from the toy and cumming so much kept my legs trembling throughout the rest of my session. I never thought I'd want a break from cumming. But I didn't get it. He tied me to the couch, legs pulled opened, my arms still tied behind me. He rammed his dick deeper in my pussy. His dick is so big. My pussy finally tightened back up from the last time he had me bound. He wanted to open me right back up, pounding me in, covering my mouth from all the screaming he caused me to do. He's instilled so much fear in me, yet I love being his slutty sex slave. When he squirts his load all over my face, I laughed. I was so happy to finally taste his seed.
Marley Blaze
August 13, 2021
Here I am again, waiting on my knees, hands and breasts tied for his amusement. He rushed towards me, cock aimed at my mouth and down my throat. He wanted spit pouring out of my mouth to smear it around and slap me around a bit. I hope he wasn't angry at me. He bent me over and smoothed his hands across my ass cheeks, bringing his hand down hard. I've never been able to endure a spanking, especially a rough and challenging one. I couldn't control my spasms. It didn't end there. He pulled out more rope and tied me up, arms and legs pulled behind me, my pussy out for easy reach. The way he was fucking me seemed he wanted to wreck it. I don't know what I did to disappoint him. I thought my last disgrace was enough. He took turns fucking my mouth and pussy, sparing the opportunity to catch my breath, slapping and smothering me, using the ropes around my breast to push his dick in deeper, no matter the hole. It all felt so good, but I hoped this would please him. I can't stand him being disappointed in me.
I wasn't sure if I was happy to see my Master or scared. He's the only one who can make me scream during sex. His kind of sex. He started off with something familiar: deep throat-ing his cock. I thought last time was rough. It was clear he liked using my mouth with his huge dick. Just like the last time, spit seeped out of my mouth, down my chin and onto my lap. Now I know why. After taking some time to finger me and rub a vibrator against my clit, too much to handle, he rammed his rock hard cock deep in my pussy. I couldn't believe the pain and pleasure of my pussy being opened and stretched. The tight ropes around my chest and arms must have made me more sensitive. I lost count of how many times I came. His hands were everywhere, especially in my mouth, keeping it wide open, more spit dripping out, gripping onto my to fuck me faster and harder.
Becca Diamond
July 16, 2021
The last thing I remember was leaving the gym. The next, my breast and wrists were tied, my master throwing me onto a dirty old mattress. He wanted to tear me apart. He first slid his thick piece of meat down my throat. He ordered me to get it nice and wet as he fingered my pussy, pulling on my g-spot. I'm sure he was testing it out to see if I was ready. I found out soon enough. He tossed me on my hands and knees, ramming his dick deep in me. I could feel it throbbing. He was relentless. He pounded me in good, holding me down with his rough hands. Every time I screamed for more, he would cover my mouth and give me exactly what I wanted. It was too much to handle at times. I didn't think I could take such a dick so rough. But I didn't care. Whatever it took to taste his cum, I'd do it without hesitation. I'll definitely be waiting for more.
My master wants me to talk about the sexual disgrace he put me through. I'm not sure if I'm even ready to share it with anyone. But I must do what I'm told. He first tied me up with rough rope. He's quite talented with shibari rope tying. He bound my breast and hands tight. Every time I moved it seemed the ropes tightened. He left me waiting in his lair, ball gag deep in my mouth. I never knew when he would arrive. When he finally did he went right to work. He bent me over and pulled my panties off, his fingers instantly in and out of my pussy, using spit as lubricant. I must confess I came twice. Being unable to move or speak was exciting as three fingers opened me up. He propped me on my knees and ripped the gag off my face, plunging his great big thick dick down my throat. I've never deep throat-ed a cock before. Feeling it slide down my esophagus made me gag so much, yet I wanted more. He was so rough. He didn't care how badly I gagged. That's exactly what he wanted. I was ready to take his long dick, but he said I wasn't ready. He hooked up his fucking machine to my pussy as he continued bobbing my head on his dick. When he was satisfied, he left me alone, the machine still pounding my pussy.
Sabrina Banks
August 23, 2016
Sabrina, the dark and mysterious brunette beauty with a model's body and those smoky, bedroom eyes looks like she?d be just as at home in a ballroom or on the catwalk of a fashion show as she does in Master Bruno's dungeon with a ballgag in her mouth and a leather cat nine tails cruelly lashing her pussy. Sabrina is strapped to a Sybian with chains and made to stay on it for an eternity of increasingly intense orgasms. After submitting to the fuck machine, she gets the master?s dick. First, by way of a hot deep throat blowjob and next, deeply into her smooth shaven, thoroughly fingerfucked and whipped pussy. A nice long session of rough sex for even the hardest to please perverts finishes the first act. Next, Sabrina is secured to a small wooden box with leather straps, her legs spread completely open with a wooden spreader bar. More cruel domination including some humiliating and painful tit whipping, fingerfucking, pussy spanking, and fucking with a vibrating wand. Sabrina may be a classy lady, but she can throw down in the dungeon like a gangster!
Latest SexualDisgrace.com Updates