Latest SexualDisgrace.com Updates
Dani Dare
October 7, 2015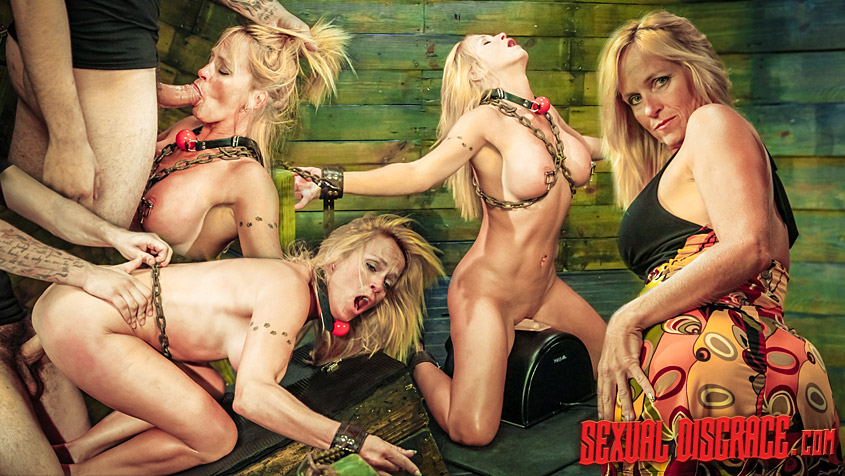 We're excited to share this video, another great domination clip with sexy cougar Dani Dare. She's addicted to her Master's long and thick cock pounding her fuck holes rough and deep. This time around Dani must endure more constant orgasms. Why not start it off with the infamous sybian fucking machine? The vibration it gives has made many models squirt, especially in our BDSM scenarios. She's kept on her knees with chains and cuffs around her wrists and ankles, her tasty clit waiting on the flesh pad. The torment begins with a light buzz, Dare's Master standing over, slapping her breasts and face with his hung dick. The dial rises and his cock is shoved in her mouth, deep throating his whore. The vibration is heightened, testing Dani's focus. She's been cumming non-stop, creating a sticky puddle. She's a good slut. She gladly bobs her head on his meat, loving every drop of spit covering her huge breasts. Vibration intensified, Dani Dare is pushed down onto the sybian fucking machine to orgasm a few more times. It makes her crave his hung dick even more. You better believe her pussy becomes sensitive. Perfect! Her Master pulls the sybian away and places a crate, rising her high off the floor, her arms kept apart, in the doggy position for deep penetration. He has full access to her mouth and quivering pussy for rough fucking. She said she loves huge cocks, but can she handle one after sybian torment. He doesn't hold back, shoving every inch of his dick deep in. When he needs more spit, he makes her clean his dick off with her lips, tongue and throat. She's getting tired but takes it all. She deserves a load. She has to earn it, of course.
Becca Diamond
September 30, 2015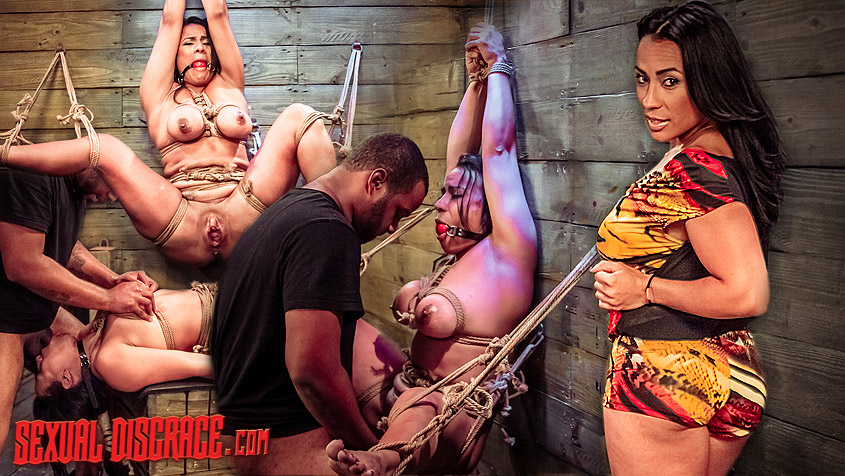 The hot cougar into extreme bondage is hard to find. We're truly blessed to know one quite well. Becca Diamond, one hot and amazing woman with a rising career in the sex industry, is no stranger to Fetish Network. The last Master she served had a big black cock she enjoyed worshiping. We're delighted to share Becca Diamond's second round. It's been decided it's time for our Diamond to endure her first rope suspension. That's right! We love Becca for rope bondage. The tight rope is tempting against her muscles. She's been in the dungeon for awhile, tied to a crate, her legs kept open and mouth available for use. Her Master wants to prepare her before he hangs her on the wall. He shoves his big black dick deep in Becca's mouth, fucking her throat, making her slob all over it. The spit allows Brooklyn to pile in her rubber dick deeper in Red's throat. Spit is dripping off her face. He doesn't need to work so hard. Diamond bobs her own head on his dick, enjoying every inch. He wants to see her squirt. He pulls out a vibrator which usually does it every time. He fingers her g-spot as he grindings the wand against her thick clit. Her pussy is like a hose. She's ready for the wall! Rope is wrapped around her hips, knees, ankles and wrists, legs spread apart, feet off the floor. What happens next is one of the hottest moments on Fetish Network. Becca's Master has full access to her sweet pink pussy. With the same XXL dick, he pound her pussy in, fucking her rough, using the ropes to fuck her deeper and faster. Becca actually struggles. Seems the suspension may be too much for her. But she wants to please her Master and swings herself onto his dick, ball gag in her mouth the entire time, hands gripping her neck. Her clit gets a bit of vibration torment, cumming more times she can handle. Let's see if Becca returns after this slave training session.
Zoey Foxx
September 23, 2015
Seems no one warned the hot and horny Zoey Foxx how intense we get here at Fetish Network. She's experimented sexually with a few boyfriends with domination and bondage, but nothing like what we have planned for her second round of slave training. This time she's tied to a crate with leather and chains, testing her flexibility, her legs kept in a split, her arms pulled in the same directions, nipple pumps aching her nipples. She can't stop shivering. Her Master finally walks in, hung dick hard and grabs Zoey's head, turns it and fills her mouth with his cock. So much spit oozes out of her mouth. We're sure she's hoping for a clear breath of air. She gets what she wants when her Master moves between her legs. Her leg tied back gives him enough room and access for whatever he wants with her pussy. He loves pounding in a cunt rough and hard, going as deep as he can. He grabs her hair again, using it to pull her down more on his cock. He then moves back and forth, taking turns obliterating her throat and pussy. Zoey seems to love every minute of her BDSM session. She gladly gives him sloppy deepthroat blowjobs and begs to be fucked more and fast. He surprises her with something special: a vibrator. He places it on her clit and watches her body tremble from multiple orgasms. It looks too much to handle. He has to hold her down and gag her with his cock. The scene is so hot, her Master decides to give her a load of his cum. She loves it. She swirls it around her mouth before swallowing it. Another successful sex slave made.
Nikki Bell
September 16, 2015
It seems Nikki Bell can't escape our BDSM dungeon. She's still there with her wrists and legs bound with rope to two elevated slabs of wood, keeping her in the doggy position. She better behave or she'll be slave training until her Master is pleased. He continues with the sybian and fucking machine with a dildo as long and thick like him. The rapid vibration with the drilling rubber cock make Nikki cum within seconds. Her moans and screams echo throughout the dark space. Her Master grabs her hair to deep throat every inch of his dick down her mouth. She can't concentrate on all the sensations, overwhelmed by it all. Our shiny Bell begins to break but he doesn't let up. He increases the vibration, speeds up the fucking machine as he continues skull fucking her, making her take his dick deep down my throat. Nikki wants to collapse but the rope doesn't allow her to. Eventually her Master pulls out of the fucking machine contraption and brings her to her knees for another blowjob. It seems Nikki Bell is obeying her Master, gagging on all the dick she can handle, hoping she get another load of cum. She keeps sucking, spit oozing out of her mouth. Finally he gets close and preps his sex slave's face for a steamy facial. You be the judge if Nikki Bell needs to return for more training.
Nikki Bell
September 9, 2015
The submissive and obedient sex slave Nikki Bell hasn't left the dungeon yet. She's actually prepped for some more bondage and domination fun. Her Master thinks she needs more training and disgrace. He makes her love being slapped and spanked, gagged and fucked roughly, deep and hard down her throat and pussy. Blindfolded, tight leather cuffs hug Nikki's wrists and ankles together as she is sat on the sybian fucking machine. It's turned on and her Master widens her mouth for his massive dick. He makes her give him a deepthroat blowjob, taking his meat as far as it can go, bobbing and slapping her head down more. Nikki begs for mercy as the vibration intensifies and spit pours out of her mouth and spread all over her face. He enjoys smacking her pussy, tits and face awake before shoving his cock in her mouth again. He likes hearing her gag on his dick. He wants her to cum a few times before he widens her pussy. Turning the sybian on high usually does the trick. Next, Nikki is placed on the floor, wrists and legs attached to chains linked to the grounds, legs kept spread eagle. Her Master slaps her pussy and torments it with a vibrator, the last thing Nikki wants. Her cunt is trembling from what's it's been given. He has to cover her mouth from all the screaming and begging for mercy. Her pussy doesn't need lube from the multiple orgasms, allowing the wand to glide all over her clit and pussy lips. Time for rough penetration. Her Master hovers over and dips his dick deep inside Nikki's pink hole. It's still too much for her little pussy to handle. Too bad. Her Master doesn't care. He pounds her pussy, ball gag in her mouth to cover the noise coming out of it. Her Master rubs her clit with the vibrator as he continues fucking her rough and fast. He wants to give her a well deserved load from all that she's taken. He unchains her a bit so she can sit up with her mouth open. You need to see the facial Nikki is left with.
Jenna Ivory
September 2, 2015
My Master wanted to see me again but went about it much differently. I wasn't sure if I was ready for him again. My throat was still sore from the last session. His slave training is quite intense. But I do love when he leaves me shackled and blindfolded. I feel so helpless knowing there's not much I can do when he has me. I could feel my pussy getting wet. I was so horny I wanted him to take me right there and then. But he made me wait, which got me hotter. The cold leather of the couch kept me shivering. I couldn't take the tease anymore. I need his dick! He finally arrives and waste no time reintroducing his huge cock to me. I wanted it down my throat, far up my pussy in the rough manner he's so good at. I love feeling like his slut to be used whenever he wants. He had me on my back, legs spread in his hands to pound me my pussy. He threw me on my knees, head and hands hanging over the back of the couch, holding my head in place has he rammed his dick deep down my throat at a rapid pace. He walked over and took my doggy, his hands firm on my hips, pulling me back fast and swift onto his cock. I don't remember how many times I orgasm-ed. I lost count. This time I got Daddy's cum. He left me a happy sex slave. -Jenna Ivory
I wanted more of my Master and his merciless disgrace. Even though my last session was a bit difficult to handle, the training was effective since I wanted to please my Master again. That's exactly what I got. This time around he bound my wrists and ankles to the floor, on my knees and hands, my ass up for him to use, easy for my mouth to be pounded in. That's exactly what he did. He even slipped in a butt plug, my asshole tightening around it every time he pushed his dick in. He took turns using his dick in my throat and pussy, raising me right back up every time I fell in exhaustion. I've never been put to work so long and aggressively. He likes to hear me moan and scream, his huge tool the cause of all the racket. He loves to yank on my long hair, using it to pull me back deeper on his erect meat, spanking my ass, training me to back it up myself. The entire time I was hoping he'd cum on me this time. I deserve cum this time. -Mena Li
My Master surprised me another training session in his dungeon. This session I woke up on a bare bed, ropes hugging my breasts, more rope keeping my wrists together behind my back, my legs free for easy maneuvering. I tried to getaway but he knows how to keep me bound in place for whatever he desires. No matter how much I screamed, he pushes me down, slaps me around and punishes me with his throbbing cock, making me beg for it. The only times I was still is when I was servicing his dick, my head in his hands making me take it deep down my throat. He threw me all around the bed to do so with such ease. I must admit. I love being manhandled, covered in spit and pussy and mouth sore from so much cock. He fucked my doggy, on my side, missionary, all perfect for taking cock deep, fast and rough. He's relentless. No matter how many times I cum, he keeps going, wrecking my pussy even more. After all this work, I just wanted his thick creamy warm load. I feel this slutty sex slave earned it. -Mena Li
Kayleigh Nichole
August 12, 2015
I'm not sure how I survived my last session with my new Master. I'm not sure how long he used my mouth and pussy. His slave training is very strenuous. When I was able to leave, everything was so sore, as if I was disgraced for days. Maybe I was. I felt the same thing again. I was grateful he left me blindfolded in his dungeon with wrist and ankle cuffs. I weakened so fast the way I was bound before. But it turned out this time wasn't better. It was easier for him to throw me around, grab my head and bounce it up and down his dick. I thought I gagged a lot before. He broke my record. Every time he skull fucked me, I had to push myself away or I'd vomit. He didn't care. He inserted his dick right back in my throat, going as deep as he could. When he was tired of my mouth, he threw me up on a crate and let me feel his dick deep up my pussy, opening it up for a snug fit. He's so rough, grabbing the sides of my mouth tight to fuck me hard and fast. He wanted to cum this time so he wasn't going to quit until he did. I wanted him to cum quick, but I never get what I want with him. I left with a sore jaw and throat this time.
My Master wanted to see me again. He says I've become a good sex slave and taken to his training well. My throat was still sore from the last session. But I wanted him to use my pussy again. I love taking his big cock no matter how he wants it. I love when he ties me up. He does it extra tight, especially around my tits and wrists. He made me wait after he finished the last knot. I was so horny I wanted him to take me right there and then. But he made me wait, which got me hotter. I couldn't take the tease anymore. I need his dick! I wanted it down my throat, far up my pussy in the rough manner he's so good at. I love feeling like his slut to be used whenever he wants. He finally came and pulled me up on the couch, had me hover over his dick and made me put it in my mouth, pushing my head down, taking the entire thing deep down my throat all the way to his balls. I can last longer but still gag up spit. Whenever I need a break, he shoves it down deeper. I love it all. He finally bends me over and dips his great cock up my pussy. I can feel him opening me up and tearing at my walls. He grabs me my the hair, slaps my ass, making me orgasm over and over. I had a feeling he wanted to cum this time. I wanted another taste of it. -Kimmy Lee
Latest SexualDisgrace.com Updates